Donations and Awareness Items
---
Donate Online
If you wish to make a donation online, you can do so safely and securely via the PayPal DONATE button below. If you click the donate button you can bypass the PayPal option and use your credit card or debit card And under special instructions to seller you can put down reason for donating
Traditional Mail
If you wish to make a donation by mail you may download our PDF form here and send it with your check or money order (US Dollars) to:
AMYLOIDOSIS SUPPORT GROUPS
232 Orchard Drive
Wood Dale IL 60191
If you would like donation envelopes (pre-printed ) please e-mail Muriel and let her know.
Credit Card
If you wish to use a direct Credit Card transaction please e-mail muriel@amyloidosissupport.org for further instructions
Visa, MC, AMEX, Discover
---
Awareness Item Donations
Donations are welcomed in both money and awareness item purchases. We currently offer wrist bands, pins, note cards, and polo shirts.
---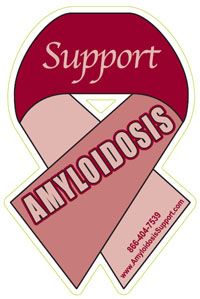 4" x 6" Outdoor magnets - great for cars, file cabinets, refrigerators, metal desks and doors, etc.
SUGGESTED DONATION $5.00 EACH
Please
email Muriel
for details
---
Wrist Bands: suggested $2-$5 donation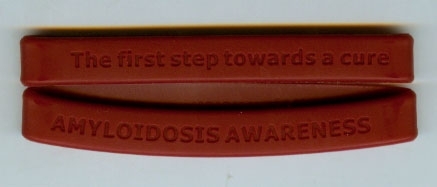 ORDER HERE
---
Amyloidosis Tee Shirts w/pocket- full cut- gray with garnet (deep red/burgundy) print
SIZES: S, M, L, XL, 2XL, and Higher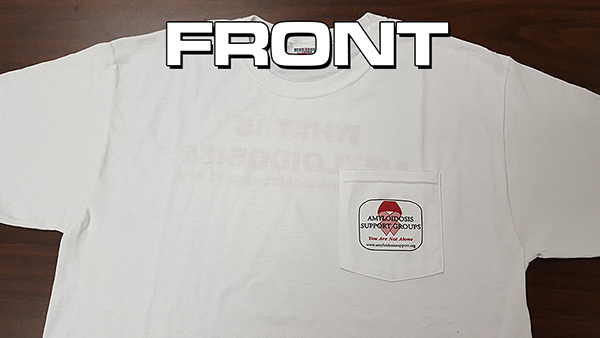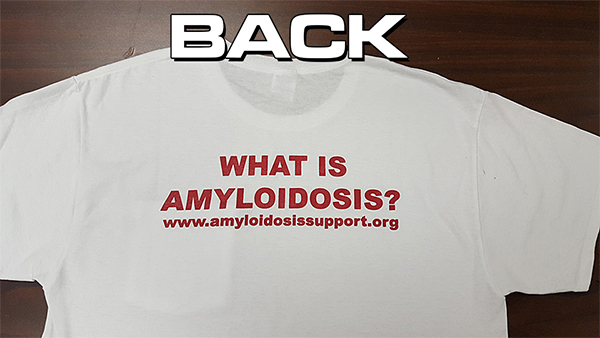 $20.00 each plus shipping
Checks
Credit Cards
e-mail muriel@amyloidosissupport.org for information
ORDER FORM FOR TEE SHIRTS (PDF)
---
Free Awareness Items
Email Steve to get your ASG seals or static cling window decals.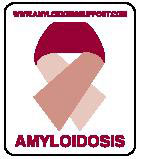 Envelope seals are a great way to help raise awareness.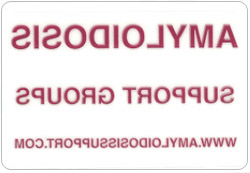 These are 3 inches across and 2 inches down and cling to the inside of window with static.