Arthur Kelley
Arthur R. Kelley, of Cumberland, Maine, and Old Greenwich, died on April 28, 2009, after a long and courageous battle with primary systemic Amyloidosis. Skip, as he has been known since childhood, was surrounded by his family. Skip's unending strength and faith is a continuing source of inspiration to his family.
Skip was born on January 2, 1932, in Boothbay Harbor, to Mildred L. Burnell and Cole H. Kelley and grew up in Portland, Maine. He was a true scholar with a passion for learning that never dimmed. Music was a way of life for him, but his talents included the academics as well as the arts. He attended Yale, Brown, and Columbia universities. As an undergraduate at Yale studying engineering, he felt the pull of music and added musical composition and German to his studies. He paid for his education by playing principal trombone in the New Haven Symphony, along with his future wife, bassoonist Joyce Ballou, and future brother-in-law, clarinetist George Mathes.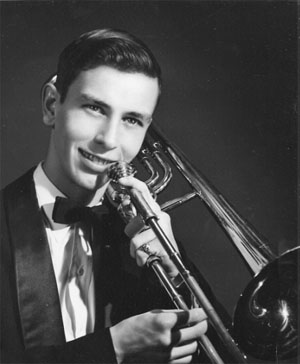 While in the army Skip taught music in local schools in Virginia and performed in the army band. During the first summer of their married life together, Joyce and Skip participated in the Aspen Music Festival in Colorado, an activity they continued at various locations throughout their lives together. While they were living in New York, Skip was lead trombonist and principal arranger for the Sammy Kaye Band until their first child was born. The family then moved to Connecticut, where Skip became a jazz-playing math teacher in the Greenwich Schools for 33 years. One of his dreams was to return to Maine, for he was a quintessential New Englander. Skip and Joyce bought a tiny cabin overlooking a lake where Skip spent summers making improvements to the place that became the summer haven for his immediate and extended families.
Skip was a friend to everyone. During his retirement, while Joyce taught bassoon and piano at home, he spent time with the families of her students, comparing gardening and cooking tips, and even inviting the neighborhood children to help him plant the garden. A great man in every way, he will be missed by many.
Skip Kelley is survived by his wife of 54 years, Joyce Kelley; daughters Dianne Ellis, Bonnie Kelley-Young, and Sharon Alogna; grandchildren Kathryn, Devon, Daniel, Kelley Rose, Jenny Lou, and Emily Grace; sister Colene; sister- and brother-in-law Joan and George Mathes; nieces and nephews, sons-in-law, and many, many friends. Skip and his family were deeply grateful to Dr. Raymond Comenzo of Tufts University Medical Center, Dr. Mathew Maurer of Columbia University Medical Care Center for Advanced Cardiac Care, and Drs. Jayne Pincus and Joel Blumberg for their care and treatment throughout his illness. A memorial service will be held at St. Savior's Episcopal Church on Sound Beach Avenue in Old Greenwich on Sunday, May 24, at 2:30 p.m. In lieu of flowers, donations may be made to the following institutions in his name:
Tufts Medical Center for the Amyloidosis and Myeloma Research Fund
Raymond L. Comenzo, MD, Director
Blood Bank and Neely Cell Processing and Collection Center
Box 826
800 Washington Street
Boston, MA 02111

and
Dr. Mathew Maurer
Clinical Cardiovascular Research Lab for the Elderly
Columbia University Medical Center
622 West 168th Street
PH12-1291
New York, NY 10032