Gerald "Jerry" Leonhard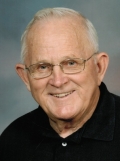 Gerald "Jerry" Leonhard, the nicest man you could ever meet, died peacefully on Friday afternoon October 12, 2012 following a valiant six-year battle with Amyloidosis. He was a longtime resident of Kiel and lived in the Town of Sheboygan since 2001. He was born April 17, 1933 in Cleveland, son of the late Henry and Dorothy (Wagner) Leonhard. On February 16, 1957, he married Marie Bohne, his best friend and life partner. She preceded him in death on March 18, 2009 after 52 years of marriage, partnership and friendship. In his final weeks, Jerry's mind was sharp as ever and he articulated being "ready to go home to see Marie." A man of strong faith, Jerry was confident that through Christ, he would be reunited with Marie in eternity.
A Purple Heart Veteran of the Korean War, Jerry treated each day of life as a gift from God and had a generous spirit and kind heart. Following his enlisted service in the US Marine Corps, he achieved his education via the GI Bill and became a Master Electrician. After his employment at Household Utilities, his entrepreneurial instinct and work ethic led him to found and operate Leonhard Electric, Incorporated of Kiel until his retirement.
Jerry was an active member of St. John's United Church of Christ, Schwarzwald, where he embraced a variety of leadership roles, ranging from president of the Christian education board to president of the Brotherhood. He was a longtime leader in the Veterans of Foreign Wars (VFW Post 8974 of Cleveland), serving in leadership roles including 8th District Commander, State Buddy Poppy Chairman, State Legislative Coordinator, Post Commander, chairman of countless committees and more. Jerry believed it was his responsibility to give back to his community and to respect the memory of his comrades through service to his church and the VFW.
Above all he was the best dad to his three daughters. Jerry is survived by three adoring daughters: Terese (Mike Birch) Leonhard, Fort Atkinson, Gail (Rex) Nelson, Milwaukee, Karla (Mark) Ashenhurst, New Berlin, and four grandchildren, Andrew Nelson, Erin & Colin Ashenhurst and Kera Birch; also survived by honorary AFS daughter, Caroline Knott, South Africa. He is further survived by three "baby sisters" Mary Ann Thompson, Bernice (Louis) Erlicher and Julianna (James) Schwinn, all of Sheboygan. He is further survived by sister-in-law Verla Piela and his wife Marie's siblings, Eugene (Audrey) Bohne, Henry (Arlene) Bohne, Donald (Judy) Bohne, and Dorothy (William) Mueller. Further survived by dozens of nieces, nephews, cousins and a large circle of friends, many of whom were loyal friends for more than 50 years.
He was preceded in death by his parents, his dear wife Marie, brother Charles Leonhard, brothers-in-law Jesse Thompson and Howard Zink and sister-in-law Laverne Zink.
Funeral services for Jerry will be held at 12:00 Noon on Thursday October 18, 2012 at St. John's UCC, Schwarzwald, (W3401 Orchard Rd. Elkhart Lake WI) with Rev. Robert Hamilton officiating. Burial will follow in the church cemetery. Family and friends may call at the church on Thursday from 9:00am until the time of services. A VFW memorial service will be conducted at 11:30am along with full military burial honors at the cemetery. Those joining the family to remember Jerry are encouraged to wear red-white-and-blue and to fly the American flag.
Jerry's sisters were a tremendous support system and Julianna and James graciously transported Jerry for weekly medical appointments. The family extends appreciation to Michael D. Johnson, MD and his medical team, the fantastic St. Nicholas Dialysis nurses, Sheboygan Progressive Care Center's exceptional staff and St. Nicholas Hospice team for their compassionate care.