EDGAR, Ian George
Born January 8, 1934 in North Vancouver
Passed away January 9, 2011 in Maple Ridge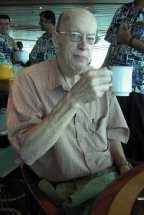 Ian is survived by his wife of 27 years Nancy Hall, and her son Curtis, Ian`s children Susan, Craig, Mark and Jane; three grandchildren and three great grand children; and brother David Edgar
Ian loved life, people and friends. He would take time to communicate with people. Always someone you could count on to lend a hand, Ian volunteered time where it was needed – writing reports, newsletters, drafting correspondence and taking minutes -for a wide variety of organizations. It was important to Ian that things be done correctly. He was a master of the written word; someone who loved to find and use uncommon words as an art.
An ardent supporter of trade unionism, Ian took a leave from BC Tel to become a Business Agent with the Telecommunications Workers' Union for many years. He loved helping people through this work. He also enjoyed making a difference through his years on the Board at Capilano College .
Ian and his partner Nancy were devoted to each other. They loved to travel and enjoy different ventures (sailing, square dancing, RV'ing, and shopping for bargains to name several). Although Ian fought a brave four year battle with amyloidosis, the support and care he received from Nancy kept him good natured and strong through the process.
Ian will be truly missed by his family and his many friends and associates. He is at peace. We are blessed with the memories of his time with us.
Memorial Service January 22, 2011 at 11am at St. George's Anglican Church, 23500 Dewdney Trunk Road, Maple Ridge.
In lieu of Flowers donations to Canadian Amyloidosis Support Network. www.thecasn.org. 1-877-303-4999 would be appreciated.