The Reverend J. Charles Merrill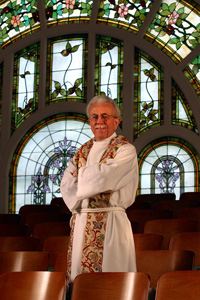 J. Charles "Chuck" Merrill died on December 29, 2006 from complications due to Primary AL Amyloidosis after a valiant three-year struggle against the rare disease. Chuck was born in Tucson, Arizona on August 5, 1937 and grew up in Austin, toting his weight in cold soda at University of Texas home games as a youngster, riding his bike from one end of town to the other, and exploring the wilds south of the river. One day as a child he walked into a Methodist church and found himself a second family. He graduated from Austin High School in 1955, Southwestern University in Georgetown in 1959, and Perkins School of Theology at Southern Methodist University, receiving his Masters of Divinity in 1962. He joined the Southwest Texas Conference of the United Methodist Church in 1960. Over his 40-year career he served six congregations in San Antonio, Portland, and Austin, including nineteen years as Senior Pastor at University United Methodist Church.
Chuck's special calling as a United Methodist minister was to challenge the comfortable by calling on the church to listen for and respond to God's everyday demands of the faithful. It was his belief that in our country there can be no authentic articulation of the gospel without raising the issue of injustice. He strongly exemplified this belief through his preaching, teaching and pastoral ministry. For him, the pulpit was holy ground.
His prophetic activism through the years led him to help coordinate and plan sit-ins by seminary students in Dallas during the Civil Rights Movement; participate in the founding, staffing and underwriting of the first Head Start School on the Gulf Coast of Texas; provide pastoral care to UT students during Vietnam antiwar marches; raise concern about the death penalty, participating in vigils outside the governor's mansion; help found and serve as president of the Austin Metropolitan Ministries; assist in founding Micah 6, a university-area assistance program; and lead University UMC in a steady critique of our nation's increasingly militaristic approach to world peace. Though known for his social activism, his first and primary love as a pastor was preaching and administering the sacraments.
Chuck brought the same passion and commitment to those he called his "tribe," for whom he was an adoring husband, father, grandfather and brother. He leaves behind three sisters, Pat Merrill, Kelly Gorham, and Chris Grahmann. Chuck, along with his wife and best friend, Trish, rode herd on a family that includes five children and their spouses: Laura Merrill and Chris Sisto; Rachel and Ron Weddell; Matthew and Alexis Pangborn; Rachel and Lee McCasland; and Katy and Chris Andre. Four grandchildren, Joe and Caroline Sisto, and Grant and Kendal McCasland, lovingly entertained their "Papa" with various tricks on his two backyard playscapes. For his children and grandchildren he had two consistent pieces of advice: "Keep your eye on the ball," and, "Do not be afraid." He will be missed.