Jean Joseph Charles
To the memory of my husband, father, uncle and brother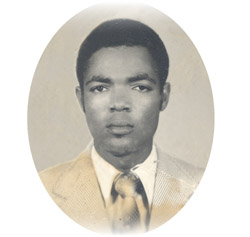 Jean Joseph Charles, my husband, was diagnosed with Amyloidosis on April 25, 2009. On June 25th 2009, while walking to his car after a dialysis treatment at a clinic in Quincy, Mass, he fell face down on the sidewalk from cardiac arrest and passed away on the same day. "Charlie" as he was fondly called began to have heart palpitations, fatigue, shortness of breath, since 1995. He could not walk long distance without gasping for breath or feeling weak. Over the years, his primary care physician could not clearly determine the cause his heart problems. He was on high blood pressure medication over the years until December 2008. After several blood tests, his doctor said they saw cholesterol plaques around his arteries and therefore was admitted twice at Massachusetts General Hospital for angioplasty. After both procedures, he was having more of the same symptoms. The palpitations became more pronounced and he was having severe pain on the left side of his chest. He spent most of his free time resting at home.
In December 8, 2008, after dinner, he felt an excruciating pain from his abdomen and he thought he was having a heart attack. He was immediately taken to the emergency section of Milton Hospital in Massachusetts. After several examinations, his blood tests revealed that his gall bladder was inflamed and was ordered to be removed right away. Now I realized it may be amyloid deposits that inflamed his gall bladder. After the surgery he never went back to work and he requested for early retirement from his employer. His health started to deteriorate after the surgery. He began to have problem with swelling in his ankles, his racing heartbeat; his fatigue was so extreme that he could not do any physical activity. Rapidly, he began to loose weight at approximately ten pounds every month. My husband was a healthy 6'3 and one hundred and ninety pounds handsome man. At the time of his death he weighted one hundred and fifty pounds.
In March 2009, his new primary care physician sent him to Boston Medical Center for a bone marrow biopsy. On April 25, 2009, the bone marrow biopsy revealed that he had amyloydosis. Our world was shattered when we received this deadly diagnosis. The disease was so advanced when we got the diagnosis that there were a few options left. The disease spread to his heart, kidneys and his thyroid.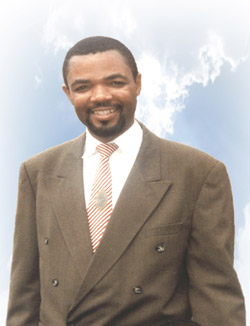 During the last two weeks of his life, he had chemo and dialysis. The dialysis treatments worked for him because he was feeling a little stronger but his heart was too weak to sustain the chemotherapy treatments. My husband stayed strong until the end. I admire his strength and courage in facing this disease and knowing he was not going to be around much longer. His faith in God and his spirituality helped him to endure all the pain without complaining and also remained positive during the last few days of his life. A week before he passed, he spent a lot of time with his four children, he prayed and blessed them.
I am proud of his strength in facing the mortality and to be concerned for his wife, children and mother. I am proud of his courage for talking about his death and preparing his family for the time of his death. We spoke an hour before he died. I will never forget his voice and how happy he was about his dialysis treatment that day. He had such a positive attitude. God had a different plan for him. Before he got into his car, he fell to the ground and he died a prayerful and peaceful man. He was ready to go home. We cherish his memory and we remember the good times and the laughter we shared as a family. I think about him every hour of the day. He is in a better place and he will forever be in our hearts.
I love you
Chantal, Ingrid, Geraldine, Johnathan and Justin
Rest in peace