Memorial Tribute to Jim Duley (4/30/39 - 2/12/05)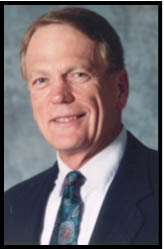 My husband Jim Duley died unexpectedly on February 12th, 2005 following a short but valiant battle with AL amyloidosis. As I submit this article it is the second anniversary of his death and I miss him dearly.
At 65, Jim had always been the epitome of a healthy individual who should have lived to be 90. He was an exercise "junkie". He swam 2-3 miles almost every day and thought nothing of running 8-10 miles or bicycling 50 miles on a Saturday afternoon! A day without some exercise was untenable to him. He was a non-smoker who preferred fruit and vegetables and never ate junk food. His only "vice" was a weakness for chocolate and sweets. He went to the doctor regularly and prized his health and fitness, putting men half his age to shame. It's still hard to believe he was taken so quickly by this horrible disease.
We were all in disbelief when he was diagnosed with amyloidosis in October, 2004. But, the prior year had seen many health problems, which was very unusual for Jim who had never been sick in his life ! He was in a serious car accident in November, 2003 resulting in several broken ribs, fluid in the lungs, and many bruises. When he was able to return to swimming 6 weeks later, he found that his swim times just didn't return to normal. This was the way he gauged his fitness. He was referred to a pulmonologist who in turn referred him to a cardiologist who diagnosed him with atrial flutter, a serious arrhythmia that can lead to stroke. Sadly this cardiologist, like so many others, misdiagnosed him and determined that his enlarged heart was simply an "athlete's" heart. Though he treated Jim's heart symptoms, he totally ignored or discounted all the other unrelated symptoms, acting as if the heart was a totally separate and unrelated organ. And, he never looked for a reason for the sudden heart problems. His arrhythmia was finally controlled by medications and then through an electro-cardioversion, but his health continued to decline and he was ultimately diagnosed with heart failure. In retrospect I wonder whether the car accident was a "triggering incident" that compromised his immune system and triggered the amyloidosis.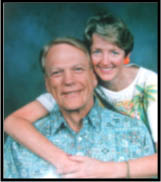 Jim's health declined significantly over the next seven months with many symptoms unrelated to heart failure - constant diarrhea and digestive problems; coldness; cognitive problems and confusion. His cardiologist said these symptoms were psychological - due to his no longer being able to exercise the way he previously had, which I knew was ridiculous. We had just met with a new doctor who had started a whole barrage of additional tests when Jim collapsed at home and stopped breathing. I was able to resuscitate him and he was taken to Sequoia Hospital, one of the leading cardiac hospitals in northern California. There he was treated by a new wonderful cardiologist, who had never seen a case of amyloidosis but recognized the symptoms on Jim's echocardiogram - a "bright beefy" heart and enlarged left ventricle. She immediately ordered a rectal biopsy which was negative, but she insisted on a biopsy of the heart itself, which was done 2 weeks later. She also discovered that most of Jim's other symptoms were due to a malfunctioning thyroid and extremely high TSH (96), which she immediately began to treat. Had his initial cardiologist looked beyond his heart and repeated simple blood tests the elevated thyroid problem would have been found and could have been treated months earlier, which might have made a big difference in his getting treatment.
On October 15, 2004, we received the devastating news that the biopsy for amyloidosis was positive. Our lives changed forever on that day. A subsequent bone marrow biopsy by a local hematologist confirmed that he had AL. Thanks to the help of Dennis Krysmalski, founder of the Amyloidosis Support Network, I was directed to Boston University and Dr. Keith Stockerl-Goldstein at Stanford University Hospital, where he was evaluated prior to going to Boston.
The next few weeks were a blur, as we prepared for a trip to Boston University in late November, 2004. The evaluation determined that the amyloid was in his heart, GI track and kidneys. A subsequent biopsy confirmed that his thyroid had apparently been destroyed by amyloid as well - a very unusual occurrence. He was told by the doctors at Boston that his best hope was a stem cell transplant and high dose chemotherapy, but not until his TSH dropped to a more normal range (usually under 6). Typically hypo-thyroidism is easily treated with oral thyroid medication, but with amyloidosis in his GI track, where the oral thyroid is absorbed, oral therapy had no success and his thyroid did not responding to increasingly large doses of medication. By then, his only hope for survival was treatment, either the stem cell treatment or chemo, but both were considered life threatening with his thyroid still out of control. As a result nothing was done, except treating his symptoms - fatigue, edema, diarrhea, stomach problems, weight loss, etc. As we waited and waited, I saw him age and deteriorate day by day - it was devastating.
By early January, 2005 Jim's overall health had declined significantly and his TSH was still too high for treatment. His endocrinologist ultimately developed a new protocol for daily IV thyroid injections and we began daily trips to Stanford. These injections brought his TSH back to normal within a few weeks and the transplant was finally approved at Stanford. But, 3 days before he was to start treatment, he again collapsed and was briefly hospitalized. Again the transplant was delayed until they determined what has caused the collapse - whether it was his heart or blood pressure. It was ultimately concluded that it wasn't a heart incident, but low blood pressure due to fluid balance and the treatment was again scheduled. But, we were then told that his heart function had so seriously deteriorated that there was a 25-50% chance that he would not survive the transplant - more devastating news. The head of cardiology at Stanford said that normally with those odds, he would not even consider approving a transplant, but knowing what a fighter Jim was, he would let us make the decision whether to risk it.
Knowing that without treatment Jim probably had only months left, he wanted to go ahead with the transplant, even knowing the risks. He was willing to do anything to fight this disease. He began the neupogen shots to increase his red blood count on Feb, 10th, 2005, with harvesting scheduled for Valentine's Day the 14th and the transplant scheduled for the following week. On February 12th, he made his usual 2 visits to Stanford for IV thyroid injections and the neupogen shots. He had one of the better days he had had in weeks, in part because of a blood transfusion on the 10th, which gave him added energy. Sadly, about 9pm that night as I helped him walk up the stairs to go to bed, his poor heart stopped beating and he collapsed and died in my arms.
As surprising as it may sound, Jim's death was very unexpected - even his doctors were surprised. We knew he probably only had a few months without treatment, but even his cardiologist didn't feel his heart was so badly damaged that it was ready to stop beating.
Jim was very frightened of a stem cell transplant, knowing the risks. But, regardless of the risks of the transplant, he was not willing to just sit back and let this disease kill him. He wanted so much to live; he was such a fighter and was willing to do whatever it took to fight this disease. Jim never feared death itself. He was a strong Christian believing in an afterlife with our heavenly Father. What he feared most was not being there for the next 20 years, of not seeing his daughters married, not being able to do all the things we still wanted to do and of missing out on so much life.
Jim was a wonderful person and the love of my life. I miss him every day. He lived life to the fullest and savored every moment. He was such a positive person, always finding the good in things. When he was diagnosed, I remember him saying that the worst time of his life had been when he had gone through a difficult divorce 15 years earlier. He said that out of that horrible time came the wonderful close relationship had with his daughters, being led to the church we attended, becoming a Christian and meeting me. He said that if the Lord would take such a devastating experience and have it result in so many wonderful things, he could only imagine what was in store for him as he battled amyloidosis. He truly believed good would come of it. And, I have to carry out some of that good…
I have continued to work with Jim's endocrinologist, encouraging him to write a case study of Jim's unusual thyroid treatment. He has done so and submitted a paper to the Endocrine Society, which hopefully will be accepted for presentation at their annual meeting in Toronto in June. Hopefully, this will help any other amyloidosis patients with thyroid problems who are not responding to oral thyroid treatment.
As part of the Amyloidosis Support Network, I will be working my second medical convention in March, 2007, with a goal of informing and educating doctors, resulting in earlier disgnoses and fewer deaths. Sadly, amyloidosis will always be part of my life and I will do whatever I can to try to help others dealing with this horrible disease.
After Jim's death a close colleague of his sent the following poem to me. It was printed on a poster at his memorial service. It so typifies the spirit and attitude that Jim was known for.
"I'm Free" (by an anonymous author)

Don't grieve for me for now I'm free,
I'm following the path God has laid you see.
I took His hand when I heard Him call,
I turned my back and left it all.
I could not stay another day,
To laugh, to love, to work, to play.
Tasks left undone must stay that way,
I found that peace at the close of day.
If my parting has left a void,
Then fill it with remembered joys.
A friendship shared, a laugh, a kiss,
Oh, yes, these things I too will miss.
Be not burdened with times of sorrow.
I wish you the sunshine of tomorrow.
My life's been full, I've savored much,
Good friends, good times, a loved one's touch.
Perhaps my time seemed all too brief,
Don't lengthen it now with undue grief.
Lift up your hearts and peace to thee,
God wanted me now, He set me free.
Jim was born in Milwaukee, Wisconsin on April 30, 1939. He grew up in Milwaukee and received his BS, MS and PhD from the University of Wisconsin in electrical and computer engineering. He later did 2 years of post-doctoral work, teaching at the Danish Technical University in Copenhagen. When he died, he left behind his wife Alexa Knight and daughters Suzanne and Caroline Duley and many, many dear friends.