John D'Ambrosio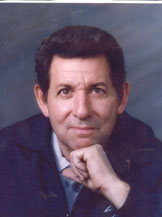 John D'Ambrosio of 110 Highland Ave. East Haven died at home March 27, 2007 after a courageous battle with amyloidosis. He is the husband of Evelyn Mironick D'Ambrosio. John was born in New Haven December 27, 1938 son of the late John and Gilda D'Ambrosio. A veteran of the US Air Force, John worked as a letter carrier for the US Postal service for 38 years and was a member of letter carriers local 32 in Bridgeport. In March, 2004 he was inducted into the National Safety Councils Million Mile Club. He was a fan of local softball teams and an avid Yankees fan. He is the father of Toni, Daniel and Eric D'Ambrosio, Evelyn and Karrie Ferriouolo. Brother of Marie Haggerty and Patricia D'Amato. Grandfather of Brayden, Mariah, Marc and Cassey. Predeceased by a grandson Nolan.

Funeral from the IOVANNE FUNERAL HOME, INC. 11 Wooster Pl. Saturday morning at 8. Mass of Christian Burial in St. Vincent dePaul Church at 8:30. Burial with military honors in All Saints Cemetery. Visiting hours will be Friday from 4-8pm. Memorial contributions may be made to Amyloidosis Support Group 232 Orchard Dr. Wood Dale, IL 60191.
Eulogy for John D'Ambrosio
JOHN
Thank you for joining us in celebrating the life and mourning the death of John. This eulogy was written by those who love him with guidance from John himself. We have tried to pull together his thoughts and feelings over the past eight months and attempt to properly eulogize a man that words themselves cannot ever describe. So, forgive the wordiness as we attempt to give honor to his life in an impossible amount of time.
I don't believe there is a single person on this Earth who has met John and could find a reason to not love him. He is one of the good guys. The type of guy who's integrity is the foundation of his soul. His life was full of love and there were so many important people in his life whom he shared that love with.
He was so proud of everyone in his life and made no secret of how he felt. His first job, however, was to be a husband to Evelyn. They became one when they wed. He often said he felt sorry for those who never experienced soul-mate kind of love. He struggled as he watched her tears flow over the past months, when it was evident that his fate would take him from her. "Please don't cry" he would say, "I'm fine." The sight of her sadness was worse than anything this disease could throw at him. Their marriage and their love was what God intended when he created marriage. It's an occupational hazard of soul mates, one is no good without the other. So, I ask all of you here today, embrace Evelyn and pray for her remembering that she will live out the rest of her days as one half of a person. Evelyn, with our help, God will fill that void for the rest of your time on this Earth. Thank you for being John's everything, you were the perfect wife.
Though John felt pride with all of the people in his life, there was also an extra amount of excitement in his voice and a little extra length in his smile when he spoke of his sons, Danny and Eric. Danny and his dad could talk for hours about sports, especially the Yankees. They spent many great times together at Yankee Stadium and John loved to talk about those times. Eric always found a way to put a smile on Johns face, even if he came over or called on a bad day, he could turn it around into a good day. Those dimples are impossible to resist, especially to John. John also felt that he had two more adopted daughters with the addition of Denise and Brandi, his daughter-in-laws. It comforted him greatly to know that his sons had found their own soul-mates. Danny and Eric, your dad is so proud of both of you for the men you became.
When John married Evelyn, he also accepted two step-daughters, Evelyn and Karrie. He cared for them as if they were his flesh and blood and the word "step" was never the way he described them. Evie, John is so proud of you and your strength and admired your ability to parent your son, despite how hard you work and how many obstacles you had to overcome. Karrie, what can you say about Karrie? Always good for a laugh when you really need one. John knew how much you loved him. He felt that permanent impression of him you created was appropriate because he said you had the heart of a lion. John wishes you both peace and love always.
So, when Evelyn and John met, he had his two boys and she had her two girls. Naturally, she wanted a boy and he wanted a girl. God gave them a compromise in Toni-Marie. While John was lacing up her cleats, Evelyn was tying bows on her ponytails. Toni was the link that joined these two families, a symbol of the love that bonded them. John loved his little girl so much. Even at the end, his face lit up when she walked into the room. Toni, thank you for being such a wonderful daughter. We are all so sorry that you have to suffer this kind of grief so early in your life. But, you're strong and we all know that you will carry on your dad's memory and his integrity in your own life. You will go on to touch as many lives as he himself has and may God bless you.
MELINDA'S TRIBUTE
You can't talk about John without talking about his grand-children. John would do just about anything for any one of his grandchildren and he loved each of them in a very different and special way. Mariah was his big girl and he adored her for her beauty, her laughter, and her ability to love. Marcie was his little man and John's greatest pleasures were the nights they spent watching the Yankee games together. He loved Marcie for his sense of humor, his intelligence and his light-hearted ways. Cassie was his little girl. She could always put a smile on her poppy's face with her wit and a puppy dog look from behind her beautiful batty eyelashes.
Nolan was John's son, Eric's first son. Nolan spent only a very short time here on Earth and God took him home very early in his life. John's grief during that time was in-describable. He would have gladly traded places to have given Nolan a longer life but he accepted God's will and cried privately every now and again for his little grand-son. Nolan now has what we all lost on Tuesday..John's complete love. Braydon came along on February 5th, three months early. We feared, after John's diagnosis, that he wouldn't live long enough to see little Braydon but Braydon had other plans. If John had to leave this life too early, then Braydon would have to come into this world a little early. At a little over 2 pounds, he astounded physicians and nurses with his gust for life and his strength, just like his poppy did these past months. God has a plan and reason for everything. Braydon will not only carry on his poppy's name, but he has inherited his strength, his perseverance, and his patience. Braydon will be going home in the next few days with Eric and Brandi at well over four pounds now and I ask that you pray for them all.
It may seem silly to some, but we can't mention all of John's grand-children without mentioning Elvis, Danny and Denise's miniature yorkie who was welcomed at the dinner table whenever John got to visit with them. Spoiled can't even begin to decribe the little guy but his little lopsided tongue and his spunky personality are impossible to be mad at. Elvis was the last one to get an "I love you" and a big kiss from John before he died. What a privileged little canine!
Friends were what made the world go round for John and he had many. His best friend, though, was John Sporko. They spent over 35 years together at the post office and countless hours outside of work enjoying life. He and his wife, Gladys, have shared so many tears of happiness and sorrow together with John and Evelyn and John's only regret was that he and his best friend would never get to do all of the things they had planned to do after retirement. Sporko, John promises there will be all of those things and more to enjoy together in the glory of heaven and he is sorry he had to leave so soon. He would like you to take care of the girls and he may not be able to talk to you anymore, but he'll always be listening. John wanted it said that Sporko was the kind of friend who is more like a brother, devoted and supportive through thick and thin. Thank you, John and Gladys, for your undying love. May God hold you and comfort you through your pain.
You may have noticed John had a love for sports. Did we mention he was a Yankee fan? You always knew who would answer the phone during a Yankee game depending on who was winning the game. If they were winning, he would answer with a cheerful "hello". If not, Evelyn would answer with a solemn "hello" and a long sigh. When they were winning, you couldn't walk in front of the television because John wouldn't want to miss a play. If they were losing, you couldn't walk in front of the television because you were bound to get hit by a rubber baseball which he frequently threw into the tv screen. During the New York Giants season, the ball was changed to a rubber football. Subway series' were especially fun for me, being a Mets fan.
I'd like to a take a minute to talk about amyloidosis, the dreadful disease that took John away from us. If you didn't get a chance to obtain the literature left at the funeral parlor, please ask anyone in the family for one. Unfortunately, with this disease and because of it's rarity, diagnosis usually comes too late. Only about 1% of the people diagnosed with amyloidosis survives beyond the 1-3 year prognosis. The more awareness about the disease we can spread, the faster we can find a cure. No one should have to suffer with this disease. Also, your support is appreciated in any way you can for the Amyloidosis Support Group which provides education, support and awareness around the world. The address can be found in John's obituary in today's paper.
The family would like to thank everyone for their love, prayers and support throughout the past year. May God bless us all as we say goodbye to one of the good guys.
---
My Dear Uncle John
by Kali Chasse
Sometimes you have to think if God's really on your side
You wonder this because of the many millions of tears you've cried.
I guess you have to believe the words "he only takes the best",
but then why do I feel like there is such a big hole on the left side of my chest?
You had the biggest heart and a brain so smart
but this awful disease was tearing you apart.
I know March 27th you had to give up the fight,
I now see one more star up in the sky tonight.
I know would want me to be happy,
So for you I am turning my smile on.
I love and miss you, my Dear Uncle John.