Kay Yvonne Thompson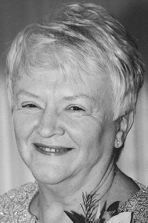 Kay Yvonne Thompson, 62, of Buckner, Mo., passed away on Saturday, May 12, 2007.
Kay was born on November 21, 1944, in Bottineau, N.D., the daughter of Elmo and Dorothy (Meyer) Brunsvold. She married Dennis L. Thompson on February 15, 1964, and he preceded her in death in January 1999. Kay worked at Food Barn from 1986 to 1994, when she went to work at Price Chopper, where she was a department manager. She attended First Christian Church in Buckner and loved traveling and gardening. Kay was also preceded in death by her parents; one son, Wayde L. Thompson in 1994 and one brother, Jule Brunsvold.
Kay is survived by one son, Cory L. Thompson and his wife, Victoria, of Blue Springs, Mo.; one granddaughter, Leah R. Thompson; one sister, Betty Lund of Bottineau, N.D.; daughter-in-law, Rhonda Middleton of Independence, Mo.; brother and sister-in-law, Harold and Wilda Thompson of Pleasant Hill, Mo.; many nieces and nephews including Jim Thompson, Adrienne Thompson and Roni Caley.
Memorial services will be at 3 p.m. Sunday, May 20, at the Royer Funeral Home, Grain Valley, Mo. Inurnment will be in Buckner Hill Cemetery. The family will receive friends from 1 p.m. until service time at the funeral home. The family suggests contributions may be made to the Amyloidosis Support Group, 232 Orchard Drive, Wood Dale, Ill. 60191 or at http://amyloidosissupport.com Arrangements are under the direction of Royer Funeral Home, Grain Valley 816-847-4441