Kerry M. O'Hara Jr.
Born October 22, 1967 in Blue Island, Illinois, collage graduate, worked for Disney World.

Married in 1994, Kerry died April 24, 1999 in Wesley Chapel, Florida, from Primary Amyloidosis.

Mom Linda Maratea, step Dad Mike Maratea, sisters Lisa, Kellie, Melissa, and brother Dylan

The reason for the Ribbon of Courage.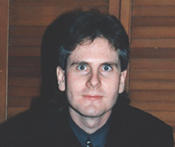 My son Kerry M O'Hara Jr. started showing symptoms in 1997, unfortunately we over looked them as being life threatening, he was experiencing fatigue, and shortness of breath. It would come on with no warning, so he went to his doctor, who referred him to a cardiologist, they did some testing and thought it to be stress related. They did notice the right side of his heart had some enlargement, but nothing they considered to be life threatening. In the later part of 1998 Kerry started swelling in his feet and ankles, after his wife persisted, he went for a check up. They first thought it was his kidneys, then his liver. They bounced him back and forth, until in February of 1999 an Internist was called in. He remembered seeing a disease like this long ago when he interned in Cleveland. They did some tests and confirmed it with the kidney and liver doctor that my son had a disease called Primary Amyloidosis.
My son was still out from the medical procedure, so my daughter in-law and I took "the word" with us on a piece of paper, hers back to her work, and my home. She got on the computer at her work, and I at home searching for any explanation for what Amyloidosis was. Well we got our answer and it was not what we wanted to hear, but nevertheless we had our answer. After many tears, we started research, myself mostly, while she stayed close by her husband's side. I got my first email from a patient within 24 hours, Isabelle in England; she answered all of my questions and directed us to go to Boston right away, because time was most valuable. We did not listen, Kerry was 31, had a beautiful wife, many dreams for a wonderful future, and now they were crumbling at his feet. He was scared, angry, and very sick by this time. So instead we went to Moffitt Cancer Center here in Tampa, Florida. They tested him inside and out, but by this time (late February 1999) it was in his heart, kidneys, and liver. The fluid was filling up more rapidly, he had to get it drained continually, for comfort, and to breathe. We had thought Tampa had contacted Boston, but found out later, they had not. Boston e-mailed me encouraging me to bring my son there. He was only 31, and had a good chance as any for survival. Before our trip to Boston, Kerry went into shock and was admitted in a local hospital where they gave him dopamine to raise his blood pressure (at the time 58/32) so he could travel. We went to Boston the end of March 1999.
Boston did all they could, but he was too progressed, and any aggressive treatment would have been fatal. They tried their best to stabilize him and could not. So on April 16, 1999,with the help of the whole Amyloid team in Boston, we got an insurance approval, and flew him home via/ Lear jet. He died the next Wednesday at home. He left a loving wife, Mother, three sisters, and a young brother. From the anger and frustration brought about from the loss of a 31 year old, healthy young man, I began to discuss with our Amyloidosis e-mail support group, and made possible with the help of many patients and their families, the ribbon of "Courage". It is maroon red for blood, as blood carries the disease and a gold heart where the ribbon crosses, in honor of a lost patient, to express the heartaches it causes everyone.
Kerry was born in Blue Island, Illinois, a suburb of Chicago. He was the eldest son, with one older sister. He was a very exceptional child, and very bright. He graduated in the top 10 of his class and he made the National Honor Society in 1985. He played 5 musical instruments, the piano being his favorite. He had many collage credits, but was continuing his education with his wife until he got sick. He married Paula in February of 94. They had no children. They were the classic family, working towards their future, a new home, education, and planning a family. Kerry wanted a daughter, unfortunately he never got the opportunity. If you learn only one thing from our story, it would be, to go to the larger, more experienced research center. Do not waste time at the small ones. It is your life you will lose. This disease knows no gender, age, nationality, it moves in and kills. May God help us spread awareness throughout this world, and help us together save lives. I will never forget those last few minutes Kerry and I had. He asked me to be there for his wife, tell her and his sisters he loved them, and his brother, he told me he loved me, he smiled at me, said Mom I have to go now, took a breath, and went to be with our Lord in Heaven. Kerry I love you, and when my day comes we will be together again as family in heaven.
Linda Andersen (Kerry's Mom)