Leonard Hoyt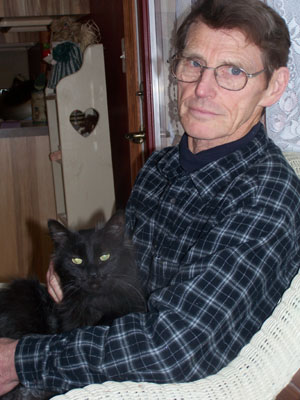 Leonard Hoyt began his heavenly mission on November 18, 2008. Len passed away at the Fairmont Medical Center in Fairmont of a rare disease, primary systemic amyloidosis (AL). The disease overtook his body but not his spirit.
Leonard was born on May 28, 1978, in Wascott Township, Douglas County, Wisconsin, the son of Elmer and Edith Howes Hoyt. He lived in Wisconsin all of his life until moving to rural Ceylon, Minnesota in 2000.
Len worked 45 years as a machinist laborer in Wisconsin followed by 10 more years at WalMart in Superior, Wisconsin, Blue Earth, Minnesota and Fairmont, Minnesota. He loved his family especially all of his grandchildren. Leonard cherished time spent gardening, fishing and hunting. Most of all, Leonard enjoyed working with the missionaries of the Church of Jesus Christ of Latter Day Saints.
Leonard married Dixie Richardson in 1955 and had six children. She passed away in 1990. Leonard later married Barbara Tilton on April 10, 1999 at the Chicago, IL Temple and became a compassionate and loving step father to her five children.
Leonard also had a warm spot in his heart for all his canine companions.
He will be truly missed by those that loved him and called him friend.
Left to cherish his memory in his wife, Barbara, five children, five step children, 34 grandchildren, and 9 great grandchildren.