Ralph "Bigg Dogg" Placencia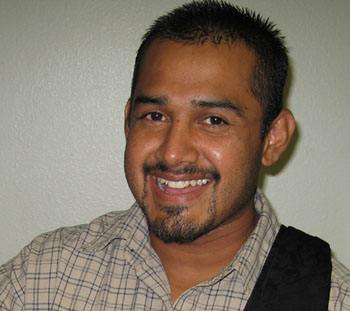 Ralph was diagnosed with AL Amyloidosis on July 2, 2008 after six weeks of not feeling well, losing weight and kidney problems. He was scheduled to start autologous stem cell transplant on August 1, 2008. He never made the first appointment for his injection. On July 31, 2008, he became very ill and was rushed to the hospital. Following is his obituary:
Ralph Placencia, 31, of Orem, UT passed away on August 3rd after fighting Amyloidosis, with all his strength. Ralph was born on July 26, 1977 in Salinas, CA to Guillermina Garnica and Feliciano Plascencia. Ralph played four years of high school football, graduated from North Salinas High, moved to Utah and soon found his future bride, and sweetheart forever, LaShon Tomeka Edwards. They were married on November 2nd, 2002.
Ralph was the biggest Lakers fan and the biggest Raiders fan. He played for the Utah Blitz from 2000 to 2004 and loved all things football. He was hard working and always provided for his family, including extended family.
Ralph was a fun-loving, kind-hearted, patient friend; he was the peace keeper and glue that kept his family together; the guy everyone knew and everyone liked. Ralph was helpful, protective, strong, yet full of stubborn pride. He was the guy who was always there for you; he always thought of others before himself, even to the end.
He is survived by his devoted wife LaShon, daughter Aaliyah, unborn son Treysen Rafael, mom, dad, brothers Guillermo and Adrian, sister Crystal. Father and mother-in-law G. Rulon and Terri Jenson.sister-in-law Misty, brother-in-law Scott (Marielle) and many uncles, aunts, nieces, nephews and cousins. Although his family misses him terribly, we know we will see him again. We love you Bigg Dogg!