LT. COL. ROBERT LUPTON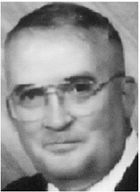 LT. COL. ROBERT LUPTON U.S. Marine Corps, Retired Lt. Col. Robert E. Lupton, U.S. Marine Corps, Retired, passed away Dec. 21, 2007, at Mountain View Hospital of amyloidosis related complications. He was preceded in death by his mother, Jeannine Wall Lupton of Silver City, N.M. Bob is survived by his wife, of 35 years, Janice (Johnson); his children, Christopher Lupton of Champaign, Ill., and Stephanie Lupton of San Marcos, Calif.; and four grandchildren, Cloe Lupton, Joey Fuller-Lupton, Jacob Fuller-Lupton and Alyssa Fuller-Lupton.
Born May 1, 1951, Bob was a graduate of Silver High School in Silver City, N.M., and received a NROTC scholarship to attend the University of Southern California. He received his B.A. in Business Administration and was commissioned a Marine 2nd Lieutenant in 1973. He received a Masters Degree in Computer Resource Management from Webster University in 1990. During 20 years of active duty, he served at Camp Pendleton, Calif.; Okinawa, Japan; Headquarters Marine Corps and 29 Palms, Calif. He attended career level schools in Quantico, Va., including Command and Staff College and commanded BSSG-5 during the Persian Gulf War as a junior Lt. Col. His MOS included Motor Transport and Logistics. In 1993, Bob became the Twin Falls Regional Manager for the Idaho Department of Environmental Quality. Following his wife's career opportunity, he relocated to Las Vegas, where he worked first for BSC and then for the U.S. Department of Energy in public relations for the Yucca Mountain Project.
He was diagnosed at the Mayo Clinic in Rochester, Minn., with primary systemic amyloidosis in the fall of 2005, chose to pursue the most aggressive treatment available and received an autologous stem cell transplant Feb. 10, 2006, in hopes of defeating his disease. Following a partial response to that treatment, he was undergoing a tough chemotherapy regimen. Bob loved competitive ballroom dancing and was an avid bowhunter. He was a caring, honest, determined, good, kind, loving, trustworthy, funny, private, stubborn, yet tender spirited man. He will be greatly missed by everyone who knew him. A service will be at 2 p.m. Friday, Dec. 28, at Desert Memorial, 1111 N. Las Vegas Blvd. In lieu of flowers, please send contributions to Amyloidosis Research, Mayo Clinic, 200 SW 1st St., Rochester, MN 55905, Attn: Dr. Morrie Gertz.