Ron McCarthy
My Dad, My Hero, My Friend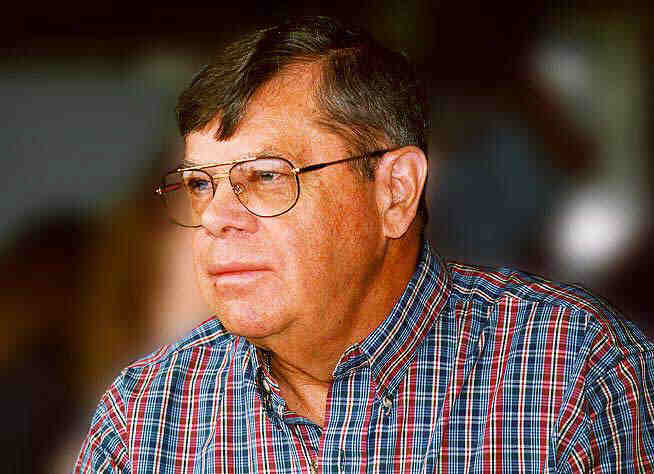 My Dad, Ron McCarthy was the kind of man everyone would want to know and every kid would want for a father. He was kind, honest, compassionate, hard working, funny, loving, and deeply committed to his wife and his children. When I was young, I knew I could turn to him with any problem, and he would have an answer. For 33 years, my Dad was there for each baseball game, track meet, basketball game, concert, musical, baptism, first communion, confirmation, graduation, and wedding of his seven children, ten grandchildren, and one great-grandson that was humanly possible. He was my Dad, my Hero, and my Friend!
Dad had his share of illnesses along the way: stomach ulcers, orthopedic problems like carpal tunnel, "trigger thumb", cartilage problems of his knees, and a car accident that nearly severed his arm at the elbow in 1986. But these illnesses and problems occurred when he was younger, in his twenties for the ulcer, and his forties and fifties for the orthopedic problems.
There was a time in the early 1990s that he noticed his fingernails becoming brittle and paper thin. When he questioned his doctor about this, he was treated with a nail strengthener and then a fungal medication. Not long after that, dark purple bruises showed up with very little pressure or contact on his skin. He was told his veins were too close to the skin, causing the dark bruising. We didn't question the responses we were given about these conditions-we believed the doctors.
During the summer of 1997, Dad noticed he would have bouts of shortness of breath. This problem was worse on the more humid days of the summer, and living in Iowa, that pretty much means every day from June 1 to September 15. Dad thought he had allergies, and he went to an allergist. After a month of receiving treatment with no improvement, the allergist ordered an EKG. He asked my dad, "When did you have a heart attack?" To the family's knowledge, Dad never had a heart attack. He was referred to his internist, Dr. Longo, who also specializes in cardiac disease. A chest x-ray noted a great deal of fluid on Dad's lungs. Lasix was prescribed, but offered little relief and nothing that would last very long. Dad saw a respiratory specialist who referred him to the University of Iowa Hospitals in Iowa City, Iowa. His appointment was scheduled for March 2, 1998 and surgery to remove the fluid and perform a biopsy was scheduled on March 3, 1999. In Dad's account of that day, "I walked into the hospital a healthy man, or so I thought, and was given a death sentence." Dad's surgery went off without any problems. The doctors did not have a clue as to what was causing the fluid retention or the heart damage. When the anesthesiologist removed the tape and tube from Dad's throat, the paper tape left large, purple bruises on his face, one in the shape of a heart on his left cheek. By chance, the anesthesiologist had just read an article on "Amyloidosis"- a name we would all soon be researching. A dermatologist was called in and a skin biopsy was performed and tested with the Congo-Red test. It was positive for Amyloidosis-the lung biopsy was given the Congo-Red test, and it was also positive. Dad was told he had Primary Amyloidosis, there were treatment options available, but there was NO cure, and he was given six months to one year to live.
Dad decided to return to Dubuque to continue his treatment with Dr. Longo and the oncologist on staff, Dr. Harmon-who was a colleague of the doctors in Iowa City. I remember going to that first appointment with my Dad and Mom, to meet Dr. Harmon. He had reviewed Dad's Iowa City records, was familiar with Amyloidosis, and discussed treatment: Oral chemo-Melphalan and Prednisone four days a week every five to six weeks. And then Dr. Harmon said it...something I knew but needed to hear when my Dad asked for a prognosis or a time frame; Dr. Harmon said, "It is hard to say...six months to a year is average, but I can see you are WAY ABOVE AVERAGE!" So we set out on this path leading us to the unknown-but I was positive in my mind and heart, Dad would outlast the average-he was going to be a .400 hitter!
My Mom arranged to work fewer hours at her job; then she was off on her own medical leave, and then utilized the Family Medical Leave Act, so she could be with Dad and assist him with his needs. My daughter and I moved back in with my parents in 1995, and I decided I would do whatever I had to in order to care for my Dad and Mom through this fight against Amyloidosis.
Dad was to begin his treatment after getting the clear sign from Iowa City after his surgery. The first road block we encountered was an infection in the incision on his back. With Dad's skin being afflicted with the amyloid, injuries, infections, etc., all healed at a much slower rate. Once we were able to start the oral chemo/steroid therapy, Dad seemed to do well. He tolerated the medicine with very little side effects. The most frustrating for him was the fatigue following the prednisone rush he got after taking the steroid for four days. Our summer of 1998 was much like "the old days." We vacationed in St. Louis to see our favorite team; the Cardinals play our favorite sport-baseball! Dad continued to work as a self-employed investment broker, life was good and happy-but the unknown of Amyloidosis remained over our heads, always threatening to rear its ugly head. In September 1998, we rejoiced as we passed the six-month mark!
In time, the Amyloidosis was making its presence known to Dad and the family more frequently. Dad had difficulty maintaining his Potassium within a normal range; at times he would become light headed, and would faint on occasion. On November 18, 1998, Dad fainted for the first time, and scraped his back in several places. By this time, Dad's skin would tear easily and would take months to heal. Daily, my Mom or I treated his wounds. Swallowing was also a lot more difficult for Dad. Once the "Meat and Potatoes" man and all he could eat was a soft diet—eggs, ice cream, jell-o, etc. Food he once loved; now made him sick to his stomach or did not taste good to him anymore.
As Dad was unable to eat properly, he became weaker, and thinner. He worked less and when he did, it was for small increments of time. As we neared the "anniversary" of his diagnosis, Dad's main source of sustenance was through Smoothies. The first weekend of March, Dad looked healthier than he had in some time. He was even able to eat some meat as we celebrated his year victory over the Amyloidosis. My Dad was much better than average! And on this day, I thought more of him as my hero than ever before.
By June of 1999, Dad's weakness increased. Some days he could barely make it to his chair in the living room, and sometimes, he couldn't even drink a Smoothie and would just suck on a popsicle. As Dad's strength vacillated between some and none, Mom and I would assist him with getting up to go to the bathroom or to have a snack. In July 1999, Dad began having gastrointestinal problems and poor bowel control. On night, he lost the strength in his legs, and fell to the floor before Mom or I could get a chair underneath him. The paramedics were called because I could not lift my Dad by myself without injuring his skin, and Mom was still recovering from back surgery. In their efforts to assist Dad back to bed, the paramedics tore the skin on his back in several places. Paper tape could not be used any longer on his wounds as the tape would also tear his skin. So we used ace bandages to wrap around his torso to hold the Vaseline bandages in place. And then we faced a dilemma…It was the day before we were to leave on vacation, with most of the seven children and their families all meeting in St. Louis. My brother, Ron had gotten tickets for the whole bunch of us for four Cardinal games-it would be the first time most of us were together at once in many years, and the first "family" vacation since we were kids. Should we cancel the trip or go? This trip was very important to my Dad-so we went. We rented a van, took out the first bench seats, and slid in his recliner so he could not only ride in comfort the whole way, but keep his feet elevated too! Dad was able to enjoy three and a half games, having to return early from the first game due to not feeling well. Dad also got to enjoy seeing his great-grandson, Dylan McCarthy Sizemore for the second time since he was born.
Dad's strength seemed to deplete even more after this trip. He was using a wheelchair to get around and having someone assist him to/from bed, his chair, etc. The night after we returned from St. Louis, Dad almost passed out while Mom was helping him out of bed. He regained consciousness and was assisted to bed. I took his vitals and noted his pulse was very faint and erratic. Dad agreed to go to the hospital to be checked out the next day. Dad was admitted to the hospital. Through various tests, it was determined that the Amyloid appeared to have reached his stomach and intestinal tract. He was hospitalized from August 8-13th. The whole week, Dad wanted to "go home" where he could be more comfortable. I arranged to be off work for an indefinite time period to assist Mom with Dad's daily cares. We arranged for a home nurse and for physical therapy to come into the home so we could get Dad stronger and feeling better again. He had been low before, but with time, Dad always snapped out of it.
Dad's first night home was happy. He enjoyed resting in his Lazy Boy for a while; then he settled in bed to watch a Cardinal game on TV. During the night, when I helped Mom get him up to go to the bathroom, then have a snack, we visited about the "home run derby' during the game and the Cards win! In the morning, Dad sounded strong. I helped Mom get him up to use the bathroom. At one point he became anxious when he thought we were leaving him. Mom sat with him, held his hand and reassured him she was there. The love that was exchanged between them was truly amazing! Dad said he was tired and he wanted to go to bed. He was frustrated with feeling so fatigued. Just before my brother-in-law, Bob and I assisted him to bed, Dad looked at me and said, "I'm so damn tired, I just want to sleep." Bob and I lifted Dad onto the bed; my Dad looked at my Mom and took his last breath. Several times we called his name to get a response, and the light in his eyes dimmed as he stared at my Mom. We positioned Dad on the floor while Mom called 911 and I began CPR. Each breath I breathed into my Dad's mouth, I prayed it would give him life, just as he had given me life almost 34 years before, but he was gone.
Amyloidosis has been the brunt of much anger and resentment among my family members and me. My Dad died from this horrific disease at the young age of 66 years. I was robbed of my time with my Dad and I was angry that the most loving and kind male role model was ripped from my daughter's life at five years of age. I grieved for my Mom who lost her soul mate and best friend after sharing the past 50 years with my Dad. I mourned for my brothers and sisters, and their children that will feel Dad's loss deeply.
Less than one year later, I still am angry and grieving. Amyloidosis has been said to be a rare disease, yet look at all the havoc, pain, and suffering it has caused so many people and families! Amyloidosis is rare only in that there has not been enough education and research in the medical field. I believe it is more a disease that is misdiagnosed because doctors treat the cause of the person being seen, and they often don't look beyond the initial complaints. Amyloidosis robbed my Dad of the man he was-it took away his strength, his ability to work, to enjoy a good steak, and to participate in his life. Through the course of Dad's treatment of Amyloidosis-he always showed inner strength. Never, ever, did my Dad complain or ask, "Why me?" He looked to each day as a new day of hope, and always remained positive. Dad showed me what human dignity really was. My father touched the lives of many that were fortunate enough to know him and his family was blessed by having a truly wonderful man in their lives. Dad will always remain a part of our lives-and we all will assist in continuing his work: Love your family, treat others with honesty and respect, and never, ever give up! Many of us remain involved in supporting and educating others who are afflicted with or have a family member afflicted with this disease.
Lovingly submitted by Lisa McCarthy in honor of Ron McCarthy: My Dad, My Hero, My Friend and his family: Wife: Dorothy, Children: Sheila and Greg Setter-Austin, TX; Maryann McCarthy- St. Louis, MO; Ron and Jayne McCarthy-Dubuque, IA; Julie and Bob Gentz-Eldridge, IA; Janet McCarthy-Cedar Falls, IA; Mark McCarthy-Galena, IL; Lisa McCarthy-Dubuque, IA; and Grandchildren: Amy Lynne and Seth Wilkerson, Eric and Sara Meyer, Shannon and Gage Sizemore, Jillian and Jerry Weldon, Nathan McCarthy, Erin and Kevin Gentz, Matt and Tony McCarthy, and Nicole McCarthy; and Great-Grandsons: Dylan, Wesley and Brody Sizemore, and Logan and Zakary Meyer, we thank you and keep you and your family members in our prayers.
Email: sheila@airmail.net