Shirley Tickell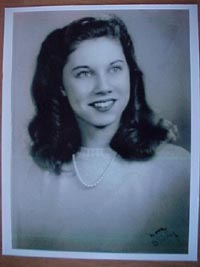 "Shirley Tickell". She was a sweetheart of a mom and great friend to many. She put her kids to shame with the way she had taken care of herself (clean living, good diet, exercise, etc.). She was a hearty but trim woman up to 7 years ago (gardening, cooking off an antique woodstove and hunting in Vermont, walking and line dancing in Florida). Although born and raised in Connecticut, she was a wannabe country girl from the start and soon created a homestead which included beautiful flower & vegetable gardens and a welcoming place for animals of all sorts (dogs, cats, birds, chickens, turtles, snakes, rabbits, goats, sheep, a skunk, a bear cub, etc.) They "retired" up to their mountain home in Vermont, but wintered in Okeechobee, Florida.
As early as 1998 Mom had symptoms beginning with chest pressure and pain after walking. Doctors did EKGs, Stress Tests, Dye Tests, Gallbladder sonograms, Lung x-rays, and treated her with Nitroglycerin and Zantac. In 2000 she underwent a Cardiac Catherization and an Endoscopy and was treated for a Hiatal Hernia. She also began having episodes of coughing up blood after the tightening of her chest from even light activity. In 2001 her urinalysis showed high protein. Another test showed a monoclonal spike - but it went undiagnosed. Neuropathy began in her feet and would eventually make its way up above her knees, in her hands, and assumedly in her tongue (as she was soon unable to accurately taste food - everything was way too sweet or salty). She also began coughing or clearing her throat during most conversations. Pressure on her chest was reduced many times by tapping up to 1.5 liters off her lungs.
Last December she collapsed and spent two months in the hospital with critically high/low fluctuating blood pressure and fluid on her lungs. The medical team at the Palms West Hospital in Loxahattche, Florida seemed to try everything to diagnose her. I could feel their frustration, but I kept pushing for a diagnosis. I don't know which doctor on the team to thank for staining her lung biopsy which found the Amyloidosis. And, I hope they understand, as devastating as the news was, it assured us that there was nothing more we could do because by then she was 80 years old and too weak to undergo any treatment. Although they did drive up to Jacksonville's Mayo Clinic, they weren't willing to stick it out for the full assessment after their first three days. So, she returned to Vermont with last hopes of getting help at Dartmouth's Medical Center in New Hampshire. (Pleas to stick to the top Amyloidosis research centers were ignored because they had so much faith in their family physician in Vermont and the specialists in New Hampshire.) She spent her last months eating less and less. She insisted that she didn't have any other discomfort - just frustration at being "in a fog" and wanting to sleep most of the time. The blood pressure fluctuations may have been the cause of her increasingly frequent seizures when she tried to get out of bed. Only the last two days were uncomfortable as she had more difficulty breathing, but by then Hospice had been invited into her home to help with her care. On what turned out to be her last day, we finally transferred her to a wonderful Hospice House in Okeechobee, Florida.
More than 20 years ago, my mother talked to me about donating her body to science. I'm sure she would have still wanted to do it, but we were so focused on saving her, the topic never came up again. In 2004, I brought her to Tampa where a friend used a QXCI/SCIO (a device used to detect energetic imbalances in the body) to diagnose her problem. Although controversial in the medical community, it was the only device that identified a problem in an organ prior to the biopsy. It strongly suggested that her heart was fine but that her liver and kidneys were not operating correctly. Medical doctors kept insisting that it must be a problem with her heart or lungs - but her heart exceeded expectations of every test. I'm sure she would have liked to help validate the usefulness of that equipment after all other medical tests failed to find the Amyloidosis for so long. The Amyloid protein deposits may have been building up in her liver and stressing out her lungs.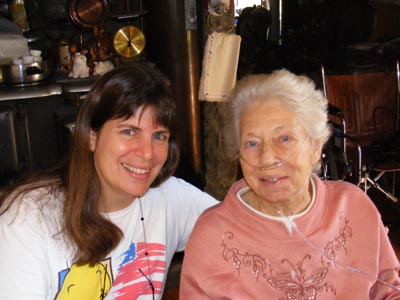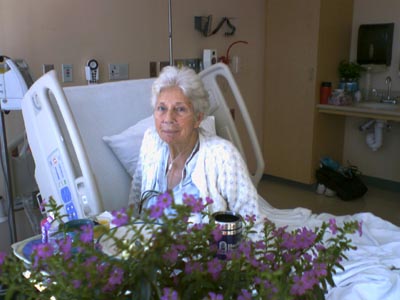 Here is the obituary posted at the funeral home's website in Okeechobee, Florida:
Shirley Marie Bruch Tickell
(May 6, 1927 - November 25, 2007)
TICKELL, Shirley, 80, of Barnard, Vermont, formerly of Branford, Connecticut, passed away on November 25, 2007 in Okeechobee, Florida.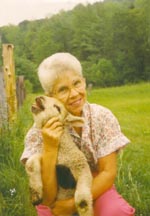 Shirley was preceded in death by her parents and brothers, John Bruch and Robert Bruch. She was a loving wife to her devoted husband of 60 years, Arthur J. Tickell and mother to Dolly Tickell of Gulfport, FL, Christian and his wife Beverly Tickell of Virginia Beach, VA, Kurt and his wife Denise Tickell of Branford, CT, and Cynthia Tickell of Tampa, FL.
She was a proud grandmother to USAF Capt. Rick Rutowicz, Mike Zichichi, Stacy Poore, Christie Vtipil, Brian Tickell, Liz Tickell, Rachel O'Connor, and KT Tickell; blessed with great grandchildren Seth and Kayla Poore; cherished sister to Evelyn B. Norman of Hamden, CT and Lois B. Madsen of West Haven, CT, and a treasured friend to extended family & caregivers Wes & Nancy Johnson of Hartland, VT and Beverly & Ted Ward of Barnard, VT.
She enjoyed her fellowship with the Silver Lake Chapel in Barnard where her future memorial service will be held. She was also enriched by the friendships of the many people she met as she traveled throughout the East Coast from Maine to Florida. She was a member of The Silver Lake Progressive Club (a group of women from Barnard who tended to community service projects), and a member of the Barnard Historical Society which helped to preserve a one-room school house. She was an artist of oil painting and played the organ. She joined several quilting bees and additionally spun her own sheep's wool for many knitting projects.
She will be fondly remembered tending to her gardens, feeding her humming birds, and caring for her sheep and goats up at "Squirl's Nest" their mountain homestead in Vermont. She loved the occasional visits from the deer, moose, bear and porcupine. She often found peace hiking through the woods and sitting next to her stream.
After the spring service, she will be memorialized at the historic Nye Cemetery in her beloved Barnard. In lieu of flowers, donations may be made to Hospice, The Visiting Nurse Association, the Amyloidosis Support Groups website www.amyloidosissupport.com or Boston University's Amyloid Treatment & Research Program http://www.bu.edu/amyloid/ Shirley's family would like for you to sign the guest book at: www.bassokeechobeefuneralhome.com If you have any stories or photos you would like to share with the family, please send them to: Cyn Tickell, 12009 Nicklaus Circle, Tampa, FL 33624 or email: tickell@tampabay.rr.com