Stephen Paul Sutton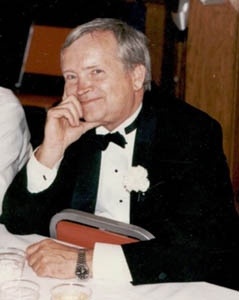 Stephen Paul Sutton died at 6:15 p.m. on Thursday November 3rd, 2011 at his residence. The cause of his death was AL (Primary) amyloidosis. Steve was born June 17, 1936 in Washington, D.C., the son of Paul F. Sutton and Frances E. (Chamberlain) Sutton. He married Mariann (Bixit) Rourke in Springfield, IL on June 21, 1958.
He is survived by his wife and children; Tina (James) Duncan, Karen Sutton and Brian Cagney, Paula (Mark) Zink, Elizabeth Johnstone, Mary (Larry) Hollis and Stephen W. Sutton. There are ten grandchildren; three great-grandchildren and many nieces and nephews.
He was preceded in death by his parents and sons-in-law, Stuart J. Johnstone and Clement W. Eibl.
Mr. Sutton was a retired Criminal Investigator with the U.S. Treasury and served his country as an officer with the U.S. Navy. He was a graduate of the University of Illinois at Urbana-Champaign. He was a member of St. Joseph Catholic Church in Springfield, IL.
Steve was a proud and loving father who will be missed greatly.