WALTER STRITZEL
WALT'S STORY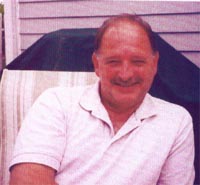 Walter M. Stritzel, (Walt), born 10-13-46 and died 02-05-07 of Primary AL and low blood pressure with multiple organ failure. He was a great person, husband for 37 years, father of 3 children, grandfather of 3 and my best friend. He was an Electrical Engineer Designer and also a General Contractor (built several apartment buildings and custom homes). A man that was very ambitious and never stopped working even during his illness and disability. He was working on our 2006 Income Taxes until the ambulance came to take him away that last time to die.
His story is this, he was going to the same local GP for 28 years and the joint pain started about at the age of 46. His GP kept giving him Indocin for inflammation. His annual blood tests were always normal and no suspicion of any problems so he kept doing this routine for 8-10 years. About 3 years ago (2004) he was having shortness of breath, low blood pressure, irregular heart, frothy urine, diarrhea with blood in his stool and feeling fatigued. After stress tests, angiograms, echocardiogram, the cardiologist and lung doctors could not find anything wrong with him. Actually said there wasn't anything wrong with his heart. They took a few biopsies which finally showed amyloidosis but they still waited. They didn't know what to do and didn't try to direct us for help…just waited. I guess they didn't know what to do. Walt took the initiative to email Mayo Clinic and the Amyloidosis Support Group (Muriel Finkel) immediately and we scheduled an appointment at Mayo, in Rochester, MN on July of 2005. Dr. Steven Zeldenrust took one look at Walt and his hideous swelling and painful legs, tests results, and symptoms and confirmed Amyloidosis. We told Dr. Zeldenrust that we were familiar with a lot of medical terms but never heard this one before. I ask myself everyday, "WHY IS NO ONE AWARE OF THIS DISEASE CALLED 'AMYLOIDOSIS'? I do not think it is that rare, since we have friends who have Primary AL and at the same hospital, only a week earlier a 65 year old woman died of similar conditions with protein in the blood…but was not diagnosed with Amyloidosis.
Walt started his first chemo treatment of Mephalan in August 2005. He had one chemo treatment a month for 5 months. Because his blood cells and platelets where drastically killed off, Walt became very sick each month and each month we stayed in the hospitals having a total of 37 blood transfusions during that time frame with a climax of collapsing to a ventilator for 7 days. Released from the hospital on 1/17/06 he started to recover slowly. Walt had swallowing problems (mostly due to his lymph nodes that were swollen) and the ventilator tube. I made him strained foods for 2-3 months and gradually he got better. He had a good summer and went fishing and no chemo treatments until 10/2006. Dr. Zeldenrust wanted him to try Rivlamid to put the Amyloidosis into remission. After 4-6 weeks of Rivlamid, Walt's legs were ballooning up, his legs and hands were turning a purplish color. He also developed a severe rash all over his body. Which was very painful and itchy (like poison ivy or chicken pox) He was now beginning to die slowly but I still felt that I could help him get back to a stable condition if we did a dialysis/water removal to purify his body of this medicine. The treatment was called ULTRAFILTRATION. On January 8th, 2007 he started the treatment in the local hospital and seemed to be improving but was very weak. We came home and started dialysis locally and start with a completely new doctor since treatment wasn't in our insurance network. Also our local oncologist was giving Walt Dexamethazone injections weekly for the last 4 weeks. I think back now and recall that if you have a heart condition, dexamethyazone is not to be administered because it is a steroid and could damage the heart more. I think this might have accelerated the disease in its final stages. Needless to say, they took too much water off of Walt one day and exactly 7 days later Walt was dead because he was dehydrated and wasn't eating. His heart and body turned into cement but his mind and brain still functioned till the end. He never had a swollen tongue or Alzheimer's. He always was thinking clearly.
I'm trying to think of how this all came about but only can tell you that he loved life We lived in the country where there were farm fields that were sprayed with herbicides and weed killers. Walt sometimes would spray paint, floggers and herbicides; it's starting to correlate with the disease since his lymph nodes were affected. My mission now, is to find out what killed my husband and to bring awareness of this disease to the public.