Wanda Lynn Wester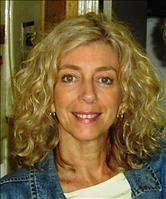 Wanda Lynn Wester, 57, passed away Thursday, April 30, 2009 in Fort Walton Beach, Fla. The memorial service will be at 7 p.m., Monday, May 11, 2009 on the grounds of Curry Hill Plantation near Climax, Ga., with visitation immediately following. Casual and colorful dress is requested to honor Wanda's love of art. Online visitors may sign the guest register at www.iveyfuneral.com.
In lieu of flowers, memorials may be made to Amyloidosis Support Groups, 232 Orchard Drive, Wood Dale, IL 60191, www.amyloidosissupport.com, 1-866 404-7539.
Wanda was a resident of Fort Walton Beach, Fla. for the last six years and previously lived in Mountain Park, Ga. and Athens, Ga. Wanda was born Feb. 2, 1952 and grew up in Bainbridge, Ga., where she graduated from Bainbridge High School in 1970, followed by art studies at the University of Georgia and private instructions in Europe. Wanda was an artist that worked in many mediums including stained glass, acrylic, and oils. Her work has been displayed in studios and sold extensively throughout the South. It was the light and colors of the Gulf Coast that led her to Fort Walton Beach.
Wanda's love was shared wholly and completely with her husband, Reggie Veteto, and her two daughters, India Fessenden and Adrian Fessenden of Pensacola, Fla. Mourning their loss also are her sister, Sharon Shelton of Marietta, Ga.; and brothers, Buddy Wester and Chuck Wester of Bainbridge; She was preceded in passing by her parents, Tommy Wester and Jeannine Brooks Wester of Bainbridge; paternal grandparents, R.T. and Minnie Wester of Bainbridge; and maternal grandparents, Charlie and Laverne Brooks of Colquitt, Ga. Wanda's heroic battle and her family's support through many obstacles were a testament to where love can lead you through hardships beyond our control. The family asks that everyone embrace life's beauty as heartily as Wanda did.
See story about Wanda's art below:
Mardi Gras pelican flies again (PHOTOS)
The Northwest Florida Daily News