Bryan Lee Carmack
March 21, 1958 - June 14, 2015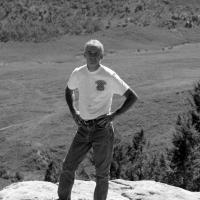 Bryan crossed the finish line of life in the presence of loved ones in the early morning of June 14, 2015, following a courageous battle with a rare condition, Amyloidosis.
Born in Trinidad, Colorado to Ivan "Val" Gene Carmack and Helen (DeWeese) Carmack, Bryan was the younger of two children. The family moved back to Grand Junction in 1960, where he lived most of his life, and attended Grand Junction High School.
Bryan was an avid drag racer and loved the drag racing community. His passion was racing in "nostalgia races" across the Western United States. As a racer Bryan was a rare-breed: he built many custom cars over the years, and insisted on building and tuning his own motors. He started drag racing in 1977 at Midway Drag Strip; his first car was a 1967 Chevelle SS 396, and in his typical fashion, he won his very first race. Bryan spent his younger days doing burn-outs in his driveway, and cruising North Avenue in his Chevelle and Camaro. The last car he built and raced was a '32 Bantam Altered Dragster with a 565 alcohol-injected big-block Chevy motor. Bryan had an insatiable work-ethic and believed in doing things right. He balanced many jobs as a construction professional, and mentored younger people in the profession. He was a frequent blood donor, and contributed to charitable causes including burn victims' organizations.
Bryan is preceded in death by his parents, Val and Helen Carmack.
He is survived by his loving wife of over 20 years, Jeannette Colleen (Green) Carmack. Bryan met Jeannette in her hometown of Steamboat Springs, Colorado. The two lived together briefly in Steamboat Springs before moving back to Grand Junction in 1994. The two were inseparable until his passing; they spent much of their time together working on their home in East Orchard Mesa, racing at the local drag strip, traveling to other drag races, and hanging out with their dogs.
Bryan is also survived by his son, Austin James "AJ" Carmack and wife Deanna (Desjardins) Carmack of Washington; three step-children, Sherrie Krueger, Dustin Krueger, and Jason Krueger of Colorado; five grandchildren, Owen Teitzel (age 10), Mariah Teitzel (age 8) Haven Carmack (age 2), Joseph Krueger-Brown (age 1), and Cannon Carmack (one-month old); brother, Kerry Carmack of Grand Junction; step-mother, Donna Carmack of Fruita, many nieces and nephews and good friends.
He will be missed dearly. -