Charles D. Barrall Sr.
AGE: 78 • Edison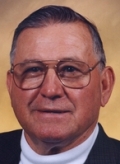 Charles D. Barrall Sr., age 78, went to be with the Lord on Thursday, March 31, 2011, at JFK Haven Hospice, Edison, N.J of AL amyloidosis. He was born in Appomattox, Virginia and was raised in Ivyland, Pennsylvania.
Predeceased by his father Clary McDaniel; mother and dad Della and Kenneth Barrall; brother Calvin, sister Nancy Martinson and daughter Sue-Anne Machemer. He is survived by his beloved wife of 58 years Doris; daughter Sharon Barrall and son-in-law Nick Raymond of Edison; son Charles Jr. and wife Nancy of Mays Landing; son-in-law George Machemer, of Aston, Pennsylvania; brothers Paul of Haines City, Florida, and Don of Tucson, Arizona; grandchildren, Allison Faust and husband Brad, Lauren Machemer, Amanda Raymond, Andrew Machemer, Chad and Montana Barrall and Scott, Stephen and Tyler Sarfert; and great grandson Ethan Faust. He is also survived by sister and brother in law Helen and Ray Scaletti, of Pitman; sister-in-laws Anita Barrall, of Spring Hill, Florida and Candeace Barrall of Tucson, Arizona; and nieces and nephews.
He served in the Army during the Korean War and was awarded the Bronze Star with Valor. Mr. Barrall owned and operated Edison Friendly Service for 43 years. Was a charter member of NJ Gasoline Retailers Association. He was a deacon at Raritan Valley Baptist Church in Edison, and was a former deacon and elder at the North Brunswick Reformed Church. He was an avid bowler for many years. He was inducted into the 700 Club, was president of Middlesex County Majors and the Ed Suswal League and was inducted into the Middlesex County Bowling Hall of Fame in 1995.
The family will receive friends at Raritan Valley Baptist Church, 592 Old Post Road, Edison, NJ 08817, on Monday April 4th, 2-4 PM and 7-9 PM and Tuesday April 5th, 9-9:45 AM with services starting Tuesday at 10:00 AM. Entombment will follow in Woodbridge Memorial Gardens, Woodbridge. In lieu of flowers, contributions may be made to the Raritan Valley Baptist Church. Arrangements are under the direction of Selover Funeral Home, 555 Georges Road, North Brunswick, NJ 08902