Former Glencoe schools superintendent remembered
By Karie Angell Luc (Chicago Sun Times)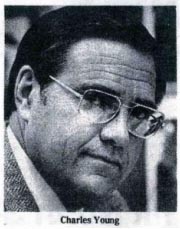 Dr. Charles R. Young of Northbrook was Glencoe Dist. 35 superintendent of schools from 1968-1988 and partner of the Glenview-based Hazard, Young, Attea & Associates, Ltd.
When Mary Otis and her brother Chris Young, both of Northbrook, gather at Thanksgiving to break bread with family, they'll say a special prayer for their father, Dr. Charles R. Young.
The Glencoe District 35 superintendent of schools (1968-1988) died Sunday. He was 83. "It's (Thanksgiving) going to be surreal," said Young, assistant superintendent for finance and operations for Glenview/Northbrook School District 30. "We're going to miss him greatly."
"But we're going to be together as a family," said Otis. "Even though he is not here, gathering together as a family is going to have more meaning than ever." Their father, who loved spending Christmas with his children and seven grandchildren, preferred a traditional Thanksgiving. "I think he liked the turkey and stuffing probably," said Young.
Dr. Charles Young, a Northbrook resident of 10 years (formerly of Glencoe since 1968) died in hospice at Glenview Midwest Palliative Care in The Glen. His wife Marion resides in Northbrook.
"I can say for grandchildren, he was involved in day one in his grandchildren," said his daughter. "They were in constant contact. He came to games. He supported them in everything they did."
Born in Chester, Ill. on May 27, 1929, Young was a Chester High School Class of 1945 graduate who earned his secondary school degree when he was 16. He earned a football scholarship to the University of Arkansas at Fayetteville where he earned a bachelors degree under his wide receiver belt. He earned his master's and Ed.D. degrees both from the University of Missouri.
In 1950, he was an assistant football coach for Southeast Missouri State.
He became a U.S. Air Force captain (1952-54) serving under General Curtis LeMay at Ellsworth Air Force Base in Box Elder, S.D.
"He told me the two high points in his life were marrying my mom and serving under LeMay in very high level, top-secret work, defending the country (in what) was perceived to be a possible attack by the Russians," said his son.
Dr. Young began his teaching career in 1950 at Carrollton (Ill.) High School. He served in administrative roles in Ladue, Missouri and became superintendent of schools in East Lansing, Michigan until 1968.
After serving as Glencoe Schools superintendent, he was an associate for 25 years with Dr. Bill Attea, former Glenview District 34 superintendent who was also a partner in Glenview-based Hazard, Young, Attea & Associates, Ltd.
"He was a great guy," said Attea. "I'm really going to miss him, I really am.
"He was a great educator, he was a leader in opening doors for people and he was a strong supporter of people regardless of their background. He was considered to be fair and trustworthy by all who met him."
Young once ranked among the nation's top 100 educators of small school systems by a jury representing the Executive Educator, an education trade publication. An avid golfer, who loved the public courses in Glencoe and Northbrook, Young made the cover of the Glencoe News, swinging a golf club in 1996. If words could sum up her father, Otis offered a passage he kept in his home office.
"To commit minds to inquiry, hearts to compassion, and lives to service of mankind …"
Young was father-in-law to Nancy Young and Dave Otis. His grandchildren are twins Caitlin and Erin Young, 22, Justin Holleb, 21, Connor Holleb, 19, Chris Otis, 22, Carly Otis, 20, and Juliana Otis, 17, all of Northbrook. He was an uncle to Bruce and Craig Witbart. A member of the Lutheran Church of the Ascension (Northfield) since 1968, he was diagnosed with amyloidosis and spoke of his condition in a letter dated Oct. 20, 2006.
"From the outset of my encounter with this dreadful illness, I have been comforted in the certainty that whatever happened would be part of God's good and perfect plan for me," he wrote. "In the years that have been given me, no joy surpasses that of being a part of the lives of seven dynamic teenagers who call me grandpa." Services are private. A local memorial service to celebrate his life is being planned.
In lieu of flowers, donations can be made to Boston University School of Medicine, Amyloid Research Fund, 72 East Concord Street, K-503, Boston, MA 02118. For more information, visit www.bu.edu/amyloid/
See also, written by Charles R. Young, I Rejoice in Being Old (PDF)