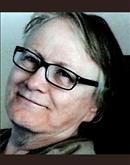 SPRINGFIELD, IL - Cheryl Briggs died at home on Dec. 12, 2015, from complications of amyloidosis.

She was born May 1, 1946, in Broken Bow, Neb. She moved to Springfield in 1988 to attend SSU. She met Patty Handy in 1990 and they were together almost 25 years. They were married Nov. 1, 2010, in Iowa City.

She is survived by her wife, Patty; sisters: Margaret, Leah, Joyce, Carol and Retha; and brothers, George and Gary. She is also survived by the couple's six furry kids.

A Celebration of Life will be held in 2016.