Corey Shaw
Born: Dec. 13, 1961; in Idaho Falls, ID
Died: Aug. 17, 2014; in Chicago, IL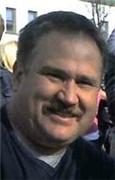 Corey Shaw, age 52, of Morris, passed away Sunday, August 17, 2014, at The University of Chicago Medical Center, from complications of Amyloidosis, a rare ailment he fought for nearly two years.
Born December 13, 1961, in Idaho Falls, Idaho where he was raised and educated. Corey joined the Air Force after High School, and while en route to an assignment, he met Donna Mestemaker, an Ohio native who, while beginning a vacation, boarded the plane Corey was on. She eventually would become his wife.
In addition to his beloved wife of 32 years, Donna, he is survived by his daughters, Cari (Rick) Archer of Tampa, FL, and Tara Shaw of Morris, IL; is mother, Priscilla (nee Ball) Shaw of Idaho Falls; father, Dennis (LeeAnn) Shaw of Idaho Falls; grandmother, Helen Shaw Arbuckle of Idaho; two sisters, Denise (Shawn) Martin of the Boise, ID area and Diana (Dennis) Tracy of Idaho Falls; one brother, Kelly (Kellie Jo) Shaw of Idaho Falls. Many nieces, nephews and cousins also survive.
Corey will also be missed by the Mestemaker family, who thought the world of him, rallying with him through his difficult journey.
Preceded in death by his paternal grandfather, Gordon J. Shaw; and maternal grandparents, Emer and Ina Ball.
Corey, a self-employed race car designer and builder, enjoyed living in several locations in the United States, throughout his adult years. He was formerly a resident of Virginia, Illinois and California (while serving our Country), Michigan and Idaho. He was a military buff who enjoyed several hobbies, including fishing (for fish and cats), camping, hunting, flying,cooking, sports cars and playing the trumpet.
He loved his family immensely and will forever be proud of his daughters.