Dale J. Manofsky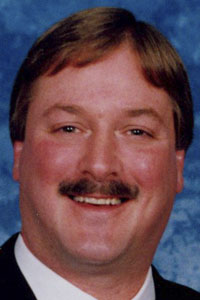 Dale J. Manofsky, 52, of Warren passed away Sunday, July 26, 2009, at Forum Health Trumbull Memorial Hospital after a two-year battle with Amyloidosis.
Dale was born March 31, 1957, in Warren, the son of Cyril M. and Dolores A. Hatala Manofsky Sr.
Dale retired from Thomas Steel Strip Corp. in August 2008 after working there 30 years. He attended SS. Peter & Paul Byzantine Catholic Church.
Dale enjoyed traveling, boating, camping, riding his Harley Davidson motorcycle, working on classic and antique cars, wine-making, music and playing guitar and keyboard. Dale was a fun-hearted person who loved people and animals.
Dale leaves his loving wife, Tyra L. Ealy, whom he married April 25, 1993; sister, Julie Ann Manofsky of Warren; mother-in-law, Frances Ealy of Danville, Pa.; brother-in-law and sister-in-law, Donald and Penny Charlton of Danville; nephew, Brandyn (Julie) Charlton of Danville and great-nieces, Cora and Clare Charlton, whom he adored. He also leaves a large family of friends who were very supportive and helpful in so many ways.
In addition to his parents, he was preceded in death by his brother, Cyril M. Jr.
Calling hours will be 6 to 8 p.m. Wednesday at Sinchak & Sons Funeral Home. The funeral liturgy will be 11:30 a.m. Thursday at SS. Peter & Paul Byzantine Church, preceded by an 11 a.m. prayer service at the funeral home.
Burial will be in All Souls Cemetery. Material contributions may be made to the Amyloidosis Support Groups, 232 Orchard Drive, Wood Dale, Ill. 60191.