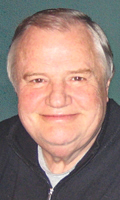 Denzil Miller 71, of Indianapolis, passed away on Tuesday, August 27, 2013 at the Mayo Clinic in Rochester, MN. Denzil was born February 1, 1942, to the late Dewey and Velma (McDaniels) Miller. Denzil was a graduate of Indiana State University and served his country with the United States Air Force Reserves. Denzil worked for RCA, Thompson Consumer Electronics, Elcotec, & Sirius/XM in various management positions in finance and manufacturing. He was a hardworking and fun loving husband, father, grandfather and brother with a quick wit and original sense of humor. He is survived by his beloved wife of 43 years, Mary Rose (Mazza) Miller; daughters, Kristina Miller and Nicole Hutchings; grandsons, Clark and Jarrod Hutchings; sisters, Louise (Jim) Cole and Barbara (Dave) Sinders; brother, Bill Miller, Godchildren Jessica Mazza and Tim Meyer and a host of great friends, co-workers. He was preceded in death by his sister "little"Betty Miller and sister in law Josie Miller.

Denzil was an avid sports fan from his days as a "fearsome" tackle for the Jasonville Yellow Jackets. He never failed to point out to all that his Yellow Jackets soundly thrashed Center Grove 62-0.

His love of sports led him to follow almost all sports from Indy Car to the NFL and all places in between. He was even known to occasionally place a friendly wager on an event and was said to encourage his many friends to join him in such ventures.

Mr. Miller was deeply involved in various charities among them the Big Nine and many motor sport foundations. In many he was the driving force and gave generously to them in both time and money.

Family and friends are welcome to help celebrate his life that was lived with gusto! Visitation will be from 2 - 8 p.m.on Tuesday, September 3rd at Feeney-Hornak Keystone Mortuary . Mass of Christian Burial will be celebrated at 11:00 a.m. on Wednesday, Sept. 4th at Immaculate Heart of Mary Catholic Church, with additional calling beginning at 10 a.m. Interment follows at Crown Hill Cemetery. In lieu of flowers, contributions may be made to: Mayo Clinic, Dept of Development, Amyloidosis Research, 200 First Street SW, Rochester, MN 55905.