Dr. Edwin Wallace III (1959 - 2014)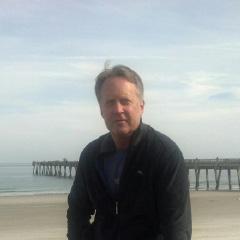 Virginia Beach - Dr. Edwin Chapin Wallace, III, (affectionately known as Trip), 54, passed away on July 25, 2014 in Jacksonville, FL after a long illness.
Ed was born in Virginia Beach, VA on August 15, 1959 to his late parents, Edwin C. Wallace, Jr. and Barbara (Stout) Wallace.
Ed graduated from Princess Anne High School, class of 1977. He attended Old Dominion University and graduated with high honors from Cleveland Chiropractic College in Los Angeles, CA in 2002. Soon after he started his practice in Howie in the Hills, FL, he was stricken with the rare disease of amyloidosis. After his wife donated one of her kidneys to him, Ed was able to continue his life for the next eight years. These years allowed him the great pleasure of meeting all his grandchildren. Ed was a loving, caring person who made friends with all who knew him. Ed was a veteran who served proudly in the USAF.
He is survived by his wife and soul mate, Tracie; son Stephen (Audra); daughter Whitney; grandchildren Shaine, Wyatt, Marley, and Shelby; sister, Leslie Foster (Al); brother, Brian (Lizle); stepsister, Monique Preti Herning (George); stepbrother, Todd Preti (Tricia); many nieces and nephews; and stepmother, Helen Preti.