Frank Magee Fisher
July 31, 1947 - July 14, 2015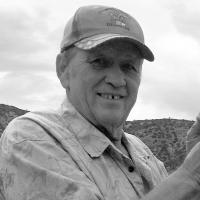 Frank M. Fisher passed away peacefully surrounded by loved ones at his home. He had been battling Amyloidosis for the last 16 months. Frank was a well-known farmer in the valley for more than 50 years. He was born in Grand Junction to Arthur and Gertrude Fisher and raised on Fishers Dairy Farm, where Mesa Mall is currently located.
Frank loved his family, hunting, fishing, and camping trips. He was also known for an occasional trip to Las Vegas or Blackhawk. One of Frank's favorite past times was driving around the Grand Valley and sharing his knowledge and history of the houses and buildings with the passengers in the car. Frank always had time to stop and visit with a neighbor, a friend, a customer or a complete stranger and never passed up an opportunity to help someone in need.
Frank is survived by his wife, Marsha Miller Fisher; son, Art (Tressa) Fisher of Grand Junction; daughter, Sheila (Adam) Polhamus of Grand Junction; step-daughter, Julie (Trent) Bloodgood of Loveland, CO; step-son, John (Holly) Miller of Dacona, CO; grandchildren, Meg (Justin) Robinson, Morgan Fisher, Maddie and Mariah Polhamus; step-grandchildren, Zoey and Aavrie Bloodgood and Riley and Tayleigh Miller; his mother, Gertrude Smith; brother, Wayne (Jamie) Fisher; six sisters, Mary Leach, Eddie (Jerry) Smith, Char Sidanycz, Shirlee (Greg) Lee, Tami (Tony) Chamblee all of Grand Junction; Lynn (Don) Cooke of Boulder; as well as many cousins, nieces and nephews. He was preceeded in death by his first wife, Betty Fisher; his father