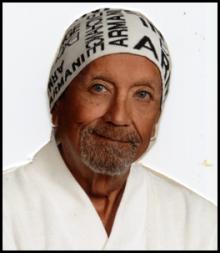 Jesse Roger AGUIRRE
Born February 5, 1948 in El Paso, Texas, entered into eternal life on November 27, 2013, in Sacramento, CA. His passing was due to Primary Amyloidosis, a rare cancer like bone marrow disease of which he said; 'I told you I'm special,' and in spite of which he struggled and survived for five years. He wanted to let you know that although he seemed peaceful on the outside, he gave it his best fight on the inside.
Roger was preceded in death by his mother, Anita and his brothers Arturo and Raul Aguirre. Survivors include his only child, Natasha, son-in-law Carlos Barron, grandsons Jaden and Joaquin Luna, granddaughter Maya Aguirre Barron, his devoted and loving life partner Erman Dwayne Woodard, dear friend and former partner Clemente Enriquez, Agnes Juan Hess, lifelong friend, former wife and mother of his only child. Other survivors include a large extended family of very dear of cousins, nieces, nephews (all good dancers!) and friends way too numerous to mention.
He worked for five years with the Santa Barbara County Welfare Department and 27 years in state service, his latest assignment was as an Education Programs Consultant with the California Department of Education.