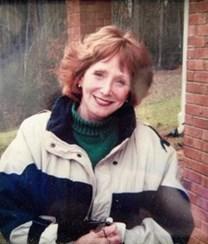 Joan Catherine Riordan, 79, Knoxville, TN died peacefully and in the presence of loved ones at 1:11am on June 20th, 2015.

Born January 29th, 1936 in Jersey City, NJ, Joan was one of four children, born to Joseph and Margaret McGhee. Her siblings include Evelyn Nitti (deceased), Margaret Martarano, of New Jersey, and Joseph McGhee of Manassas, Virginia.

Joan met and fell in love with James Riordan in 1956. Three years later they married in Jersey City, NJ. James and Joan had four children in four years: Jim, Alison, Noreen and Michael. The family relocated from Rutherford, NJ to Atlanta, GA in 1970. Joan and James moved to Knoxville in 2008.

Joan lived an amazing life, graduating from Georgia State University in Atlanta, GA in 1976 while raising four children. She became a writer for what was then a start-up cable news network, CNN, deciding afterward that she would pursue an acting career. Joan appeared in numerous movies, television shows, plays and commercials. Joan was an awesome and beloved daughter, sister, friend, (she had so many), wife, (the best), mother, grandmother, great-grandmother, aunt, actress, writer, director, artist, volunteer, optimist, motivator, teacher and advisor. She will be missed more than any words can describe.

She will live on it the hearts of her family, including her husband, James Riordan of Knoxville, TN, her children, Jim Riordan of St. Louis, MO, and his wife Marianne, Alison Mencer of Knoxville, TN, and her husband Miles, Noreen Riordan Sandoval of Portland, OR, and her husband Ron, and Michael Riordan of Knoxville, TN, and his wife Martha. Her in-laws: Eddie and Barbara Riordan, Warren (deceased) and Catherine Curtis. Joan had 11 grandchildren; Christopher Randall, and his wife Emily, Kaitlyn Riordan, Jimmy Riordan, Meagan Sandoval, Kelly Sandoval, Ben Palazzolo, Ellen Palazzolo (deceased), Andy Mencer, Nick Mencer, Jimmy Bogosian, and Lisa Bogosian; two great grandchild, Avery Randall and Holiday Palazzolo, nineteen nieces/nephews and thousands of loving friends.

The Riordan family would like to thank all of their wonderful family and friends who have sent notes, offers to help/assist, love and prayers. It has been felt and appreciated and that love is returned ten-fold.

The family would also like to express thanks and praise to the excellent doctors, nurses, researchers and staff at Boston University School of Medicine Amyloidosis Center who provided state-of-the art care and treated Joan with respect, dignity and love.

Finally, thanks and deepest gratitude to the doctors and nurses in Knoxville, TN who cared for Joan with immense care and compassion over the last seven years.