Juan M. Begue
August 06, 1947 - July 24, 2016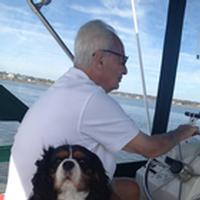 We are sad to announce Juan Manuel Begue' 68, passed on July 24th 2016. He was born on August 6th 1947 to Alicia and Alberto Begue' in Medellin, Colombia. He leaves behind his beloved wife Diane, daughter and son-in law Carmen and Richard Percudani, son Eric, daughter Kim, as well as his three adored grandchildren Collin, Cameron and Payton, to whom he was affectionately referred to as "Papa". His absences will be grieved by his loving sisters and brothers, Beatriz Begue', Jorge and Vicky Begue', Santiago Begue', Gloria and Mark Tuttle, Maria and Clayton Sparks and Luis and Amy Begue', as well as family member in Medellin Colombia, many nieces, nephews, cousins and many dear friends across the United States.
Although Juan always enjoyed his work and it was important to him, he was truly happiest when on his boat and spending time with his family and friends at the ocean. He was a wonderful husband, father, grandfather, son, brother and friend. He will be greatly missed by all including his dog and buddy Willie.