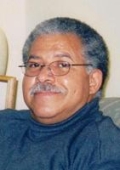 Leo Johnson
Leo Johnson
July 29, 1942-February 10, 2013
Resident of San Jose

At peace, Leo transcended to his next life Sunday morning after a protracted fight with pancreatic cancer.
He is survived by his wife, Marty, and daughter, Tonia Lynette, as well as his sisters, extended family, and many others that loved and respected Leo. Fond memories will honor him. He uplifted the spirits of everyone he so easily engaged in conversation.
Born in Paterson, New Jersey, to Pearl Victoria and Harry Johnson, he was a tremendous aide to his large family from a young age, raising chickens, cultivating the large vegetable garden, apprenticing for his father's plumbing business.
Leo joined the US Marine Corps after high school, spending one year as radio repairman/ soldier in the Vietnam War.
Upon discharge at El Toro Airbase, CA, Leo began his approximate 20 years at aerospace company, Hughes Aircraft, Newport Beach, CA, rising from a technician to general manager of the plant site swing shift.
Leo was the joyous recipient of a heart transplant in 2004, necessary because he had a rare familial Amyloidosis which affected only his heart. Due to the success of his transplant other amyloid patients have received heart transplants adding to the growing family of KP heart transplant patients. They and their doctors, nurses, and social workers, meet regularly, where Leo gave and received so much support. God bless all of you.