Mark Cavanaugh
Thursday, 22 November 1945 - Saturday, 22 December 2012

Funeral Date: Friday, 28 December 2012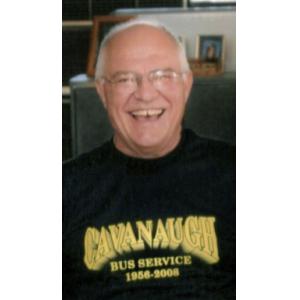 On Saturday, December 22, Mark F. Cavanaugh of Monmouth won his courageous battle with amyloidosis and has gone home to spend Christmas with our Lord and Savior.
Mark was born on November 22, 1945 in Monmouth to Frank and Dorothy (Sowers) Cavanaugh. He attended Immaculate Conception School and graduated from Monmouth High School in 1963.
Mark worked by his fatherís side at Cavanaugh Trucking and Bus Service beginning in his youth and until his fatherís death. In the following years, Mark proudly transported Americaís future to school as the owner of Cavanaugh Bus Service and later in life as the Transportation Director for United School District.
Mark enjoyed spending time with his family, NASCAR racing, golf, strawberry shakes, watching westerns, and relaxing in his swing at Lake Warren.
He is survived by his wife LouAnn (Rundle) Cavanaugh, whom he married 25 years ago on June 11, 1987 in a ceremony surrounded by family and friends. Mark has two daughters, Wendy (Curt) Lovdahl of Monmouth and Cindy (Chuck) Vestal of Andover, IL as well as a son, Eric (Kristen) Hardesty of Woodstock, IL. He very much loved his grandchildren, Jayne Lovdahl, Brooke Lovdahl, Emily Lovdahl, Maggie Vestal, Molly Vestal and Rhys Hardesty and remained forever close to his siblings, Linda (Jerry) Painter, Craig (Alice) Cavanaugh, and Marie (Kirk Brockett) Cavanaugh.
Mark is preceded in death by his parents, his sister-in-law, Cheryl Free, and many beloved aunts and uncles.