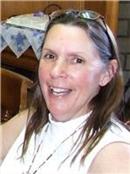 Mary Patricia Yanacheak (née Kennedy), 62, of Brownington, Vermont, died on 9 November 2015, in the company of her friends and family. She had suffered from amyloidosis for seven years, a rare, painful, and debilitating disease. Her passing was neither painless nor serene, but she was surrounded by people she loved and who loved her.

Mary was born on 24 October 1953 to mother Viola Kennedy and father Allen Kennedy at a US army base in Heidelberg, Germany. She was the youngest of five children, and the family soon moved to Holden, Massachusetts. As a child, Mary found her greatest peace in nature. Throughout her life she spent much of her free time hiking in the woods, binoculars at the ready, and a German Shepherd at her side.

A lover of animals, Mary worked at several animal shelters and always kept several pets. In her early adulthood, she often worked as a bartender. Her most meaningful vocation was in the service to animals, and later in life to the maintenance and well-being of her expansive perennial flower gardens. Jason Kennedy, her only child, was born in 1982. She felt she lost the opportunity to pursue higher education for herself, so she actively fostered her son's lifelong love of learning.

In March 1992, she married David Yanacheak in Michigan, where she lived until moving to the Northeast Kingdom in 2001. In her later years, David was her constant caretaker and life support.

People remember Mary best for her resilient spirit. She outlived a death sentence by seven years, and stayed active in the American Legion Women's Auxiliary (Post 23), book groups, gravestone restoration, and gardening. She was self-reliant by nature, and was a powerful example of a strong female role-model.

She is survived by her husband David (of Brownington, VT) , son Jason Kennedy and daughter-in-law Khayreyah Wahaab (of Auckland, New Zealand); sisters Gail Kennedy (of Holden, MA), Sharon Harmon (of Princeton, MA), Nancy Desrosiers (of Falmouth, MA), and brother Roy Kennedy (of Jefferson, MA); step-daughter Marnie Yanacheak and granddaughter Rita Gabriela Fuentes Yanacheak (of Littleton, CO). It should be acknowledged that two of her closest friends have been like family to her: Diane Wunderlich (of Flushing, MI) and Marsha Cherington (of Brownington, VT).