Merrill Larsen Wilson
1927 - 2016

"It's fun to work. Work is fun. Work work work. Fun fun fun!"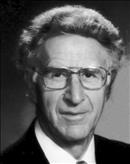 Merrill Larsen Wilson, MD, age 88, died peacefully in his sleep at his home in Salt Lake City on Mar. 3, 2016 after a long battle with amyloidosis of the heart.
Born Apr. 11, 1927 to loving parents Thomas Ross and Alice Cloe Larsen Wilson, Merrill was the sixth of seven children raised on the family's Alta, Wyoming farm. Merrill learned to love the land and developed a great work ethic. He transformed the rock, sand and clay of his SLC home's backyard into a lush garden and orchard. He was very generous and took great joy in sharing his bounty with others.
Christ was always in his heart. His faith influenced all aspects of his life, including devotion to family, profession, church, and personal life. He served a 2.5-year mission for the Church of Jesus Christ of Latter-day Saints in post-WWII East Berlin. He returned home just in time for his father's funeral, where he met his sweetheart, LaRae Egbert, playing the organ for the service. They married in the Idaho Falls Temple in 1955 and had nine children. He was a great patriarch to his family. He served diligently in the Church, including as president of an elders quorum, ward choir director for several decades, leader of a high priests group, Sunday school teacher, counselor in a bishopric, and worker in the Salt Lake Temple for several years after his retirement.
Education was a priority to Merrill. He studied at the U of WY and U of UT for his bachelor's degree, U of CO for medical school. He did his internship and residency at LDS Hospital in general surgery and specialty cancer surgery fellowship at Memorial Sloan Kettering Cancer Center in New York City. He practiced for many years in Salt Lake City until he retired at age 71. He strove to improve his skill with each procedure, asking himself, "How can I do this better than I did the last time?" He believed in eternal progression professionally and in other aspects of his life.
Music stirred Merrill's soul. He played the piano, oboe, and saxophone; and he had a magnificent bass voice. He performed roles for the Utah Opera. Often he would sing while his beloved wife would accompany him on the piano for different occasions. They sang together in the Mormon Tabernacle Choir for 22 years, and later for the Utah Symphony Chorus until LaRae's death in 1997. After his retirement from medicine, Merrill took up piano lessons again and loved giving concerts for large gatherings in his home followed by feasts he would prepare himself, largely from the bounty of his garden.
Merrill was equally comfortable working in the dirt as in the kitchen, as capable at removing cancers as raising spirits to heaven with music. His deep booming voice and outspoken tone belied a gentle nature and contagious, dry humor. He was a mystery to many, a great treasure to those who knew him, a modern Renaissance man. He will be greatly missed.
Merrill is survived by his siblings (Janet), (Janice), Wayne, Grant (Sharol), (Merlene Egbert Park); step-brother Charlie; nine children David R. (Jennifer) Wilson, Marta W. (Scott) Murray, Lisa W. Siniscalchi, Julie W. (Brent) Schindler, Anne W. (Keith) Elkins, Elaine Wilson, Lowell A. Wilson, Kirsten W. (Dean) Anderson, and Phillip E. (Alecia) Wilson; 37 grandchildren; 16 great-grandchildren; and dozens of nieces and nephews.
He was preceded in death by his sweetheart of 42 years, LaRae Egbert; his parents Alice Cloe Larsen and Thomas Ross Wilson; step-mother Elsie Price Rigby Wilson; siblings Ralf, John Mark, Clyde, (Nikki), Suzanne (Tom McKay); Rigby step-siblings Grant, Macell, Ross, Noel, Clark, Price, Elsie and Rex.
The family would like to thank all who cared for or visited him in his last days.