Monna Sweatt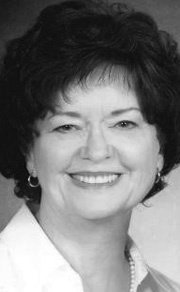 Beloved wife, mother, and grandmother, Monna G. Sweatt, 68 of Paducah, quietly stepped into the Lord's presence at 2:49 a.m. Thursday, November 1st, at Lourdes hospital after a long and courageous fight against primary Amyloidosis.
Born July 17th, 1944, to Inez Gage and Ray Gage who preceded her in death, Monna was the youngest of her four siblings. She spent her life in her hometown of Paducah, Kentucky. She was preceded in death by her brothers, Merrel Ray Gage and Donald Ray Gage.
On August 11 she celebrated 50 years of marriage to her surviving husband, Charles W. Sweatt, whom she revered as a strong, solid source of strength. Together they built a life deeply rooted in faith and family. Additionally, she is survived by her two daughters, Carla Jetton and husband Bert; Ellen Powless and husband Chris; six grandsons, Jacob, Matthew, and Seth Jetton and Samuel, Thomas and Joseph Powless, all of Paducah; one sister, Weda Walden and husband James of St. Louis, Missouri; great-aunt, Carolyn Adams of Paducah, Kentucky; close cousins Janice Davania and husband Glenn of St. Louis, Missouri, Genese Reid and husband Tommy of Murray, Kentucky, and Jeanette Samaniego husband Louis of Dallas, Texas; sister-in-law, Linda Riggins and husband Scott; brother-in-law, Ricky Sweatt, all of Paducah; and several dearly loved nieces and nephews.
Monna was an accomplished labor and delivery nurse and spent the last 22 years of her 39-year career as Director of Maternal Childcare Services at Western Baptist Hospital. During that time, she dedicated her service to the betterment of women's health. Compassionate, caring, and tender was the care she gave to the women, children, and nurses she served.
Monna was known as a woman of dignity. Well-respected and wise, she was a source of counsel and strength to many throughout her life. She listened with the intent to understand not just reply. Her kindness and thoughtfulness were apparent in her desire to think of others first. She lived her life quietly helping others while never seeking or desiring credit. Aware of those who were lonely, she always had an open chair at the table for anyone needing the love of family.
During the 17 months of battling primary amyloidosis, her stead-fast determination prevailed. She always commented to everyone, "you know, things could be worse!" Without the wonderful care provided by Dr. Kyle Turnbo and his staff, Monna's ability to cope with the disease would not have been possible. Lourdes hospital nurses and staff will always be part of the extended family, as well as, Sharon Fesmire, who helped provide care for her during the last few weeks of her life.