Peggy Girshman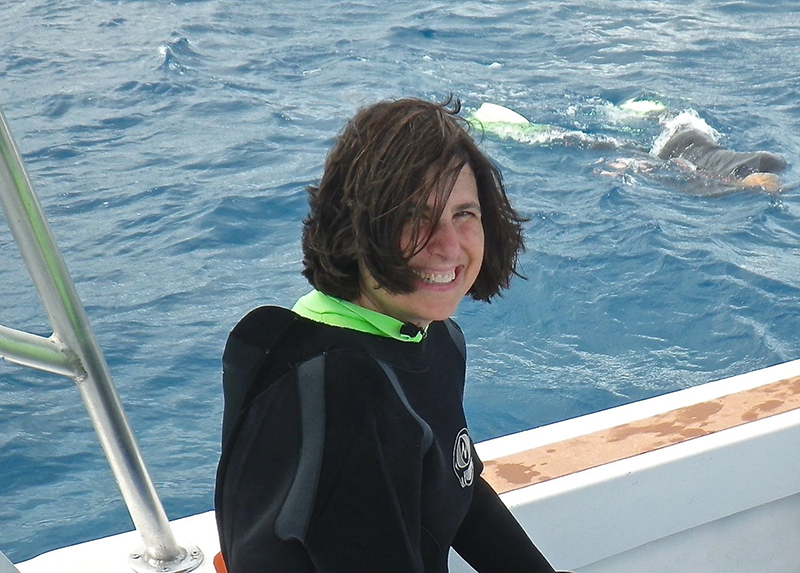 Peggy Girshman in 2015 on vacation in Hawaii. (Courtesy of family)
The following eulogy appeared in the obituary section of The Washington Post:
Peggy Girshman, journalist who helped start Kaiser Health News, dies at 61
By Harrison Smith March 16

Peggy Girshman, an Emmy Award-winning health-care journalist who helped start the Washington-based news service Kaiser Health News in 2008 and build it into a media organization of national scope, died March 14 at her home in Silver Spring, Md. She was 61.

The cause was complications from amyloidosis, a condition of abnormal protein production and deposition in organs, said her husband, Mitchell Berger.

Ms. Girshman was a founding editor of Kaiser Health News with Wall Street Journal reporter Laurie McGinley, who is now a health reporter at The Washington Post. Matt James, an executive at the Kaiser Family Foundation, oversaw operations. The news service is a program of the nonprofit foundation, which studies health policy.

As executive editor of Kaiser Health News's online operation until her retirement in 2014, Ms. Girshman coordinated coverage of health-care policy and politics at the federal and state levels. She also spearheaded a health-care-policy boot camp for reporters at NPR-affiliate stations.

Kaiser publishes its stories online and through other news organizations, including The Post.

Earlier in her career, working in broadcast media, Ms. Girshman gained a reputation for explaining complex health and science issues for lay audiences. She earned four local Emmys and one national Emmy as a producer, the latter for "Killer Virus," a 1995 Learning Channel show that focused on Ebola.

Ms. Girshman began her career as a story and program producer for TV stations such as WJLA (Channel 7) and WUSA (Channel 9) in Washington and WNET (Channel 13) in New York City. As a senior producer for PBS, she worked on "Scientific American Frontiers" as well as a 26-part educational series on statistics.

She joined NPR as a science reporter in the early 1990s and rose to become managing editor in charge of integrating the newsroom's radio and digital sections.

After serving as a senior medical producer at "Dateline NBC" from 1998 to 2001, Ms. Girshman worked with several start-up news organizations, including a New York Times video-journalism affiliate. She briefly served as executive editor of Congressional Quarterly's website before being recruited to start Kaiser Health News.

Peggy Lynn Girshman was born in Buffalo on Oct. 20, 1954, and grew up in Detroit. She graduated from the University of Michigan in 1976.

Her first marriage, to Andy Burness, ended in divorce. Besides Berger, her husband of 20 years, survivors include a brother and a sister.
---
Below was written by Peggy herself before her passing, something she called her auto-eulogy:
There's a common saying that, on their deathbed, no one says, "I wish I had spent more time at work." I'm an exception to that. A central tragedy in my life is that I couldn't work longer, if only to convince someone I was right about something.
I also wish I had divided my life to spend more time with my family, especially Beth, Helen, Irv, Natalie, Lianna and Annie, whom I order around and love like a niece. Well, maybe not much more time with my parents. And my friends, including the myriad of best friends, you all know who you are. And you've all been the best of friends to me, especially in the last few years.
OK, now that that's over with, I'm taking a few minutes when you have to listen to me. I'm only sorry I couldn't be there for your rapt attention and adherence to my advice. Here we go.
For folks with Stage 0 or less cancers, especially DCIS [ductal carcinoma in situ], or prostate, watch and wait. I understand. I was one of those people who say, "Get it out of me." Please resist that temptation.
At least half of these don't go on to become invasive cancers. Why should you do all kinds of bad things to your body unnecessarily? And, by the way, it costs waaaay too much.
If you are one of those people who can't resist the call of the surgeon, do not get a lumpectomy, aka "breast conserving" surgery. I can tell you that from personal and observational experience, it doesn't conserve the breast.
After the surgery, which often has to be done twice to get clean margins, there is the whole nightmare of radiation, which shrinks tissue and makes for painful inner scarring. Biggest mistake of my life was to do that. And there are a lot of mistakes to choose from.
If I only convince one of you to at least convince one other person, I've accomplished something. I know, I've done so much good work blah blah blah. But even one person not having surgery would be the crowning achievement of my life. I am not kidding.
Setting aside my own body (oh yeah, it really is set aside now), let's talk a little about evidence.
If you get nothing else from this memorial service, please think about evidence, truth as best it can be determined. Anecdotal evidence is only meaningful if it involves me, Peggy Girshman. Otherwise, trust the scientific method, where similar groups are compared and with large sample sizes, if possible. Especially when it comes to what you put in your body for medicinal reasons.
OK, I know there's a lot of eye-rolling out there right now. But why would you take anything that hasn't been proved to work? Belief is powerful. The placebo effect exists.
While we're at it, please stop with the lifestyle advice.
Don't knock people about what they're eating, how much or when. Yes, if you eat a lot of fresh fruits and vegetables and cut down on fat, you have lowered the chances you'll get cancer or heart disease.
But that is just one of so many factors, that to judge people about their quantity of fruits and vegetables is simply unfair.
Don't ask, if someone has lung cancer, if they smoked. Try really, really hard not to even think it in your head. It shows, believe me. It adds pain to an already painful, scary time.
Try to convince yourself that people get sick for so many reasons that we don't know about. One little mutation in one little cell.
Two people eating the same amount of sugar or carbs every day for years: One might develop diabetes and the other doesn't. Please don't examine what one person is eating to cast disapproval in your head while the other one gets a pass.
When 10 studies can't find any connection between X and Y, please believe it. Don't think about your friend or even yourself where it seemed to go the other way. Of course it sometimes goes the other way, but why would you want to live your life based on your friend, who is lovely but might have another claim next week.
Don't say, "I don't know how you can find anything in your office/house/car." In other words, wow, you're a slob. Yes, I'm messy, what do you care? Neat, vegetable-eating people are not morally superior to anyone else.
Be nice to people. Sounds really corny and pedestrian, but it's how I managed to succeed at work, no s***.
Always make sure there are cookies or something tasty to eat at any in-person meeting. As there should be, right now, in the back. You'll get to them very soon, I promise.