Roberta 'Berta' Mae Bomar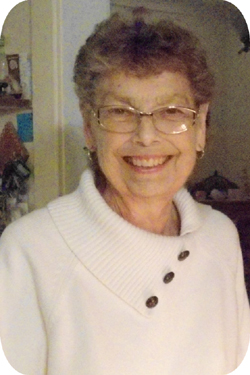 Roberta "Berta" Mae Bomar, East Helena, passed away Tuesday, March 5, 2013, embraced in the loving arms of her family after a courageous 5 1/2 year battle with amyloidosis. Roberta was 70 years old.Roberta was born Jan. 29, 1943, in Plentywood, the daughter of Fred and Doris (Norton) Miller. In 1948, Fred married Luella Abenroth and the family moved to East Helena where Fred was employed at the smelter. Roberta's sisters, Rose Marie and Ruth Margaret, were born after the family moved to Manlove Avenue in East Helena.
Roberta attended East Helena Main Street School through eighth grade. She remained close to her fellow East Helena classmates, enjoying many class reunions and luncheons. After graduating from Helena High School in 1961, Roberta was employed as a secretary in the Materials Lab of the Montana State Highway Department. It was while working in the lab that Roberta met the love of her life and best friend, Boyd. They were married Aug. 30, 1968. Brad, born in 1969, and Jennifer, born in 1973, joined Boyd's sons John, Jeff and Brett in the busy household. Roberta cherished family gatherings and outings with family and friends. She was happiest when surrounded by her family. She lovingly prepared delicious holiday meals and enjoyed every birthday celebration. She loved outings in the beautiful Montana mountains and historical sites around the state.
Roberta excelled in spoiling her grandchildren. When her grandchildren were happy, Roberta was happy. Snacks, treats and lots of hugs were found at Grandma's house. Grandma Berta nurtured, cherished and delighted in her nine grandchildren and great-grandson, Finnley.
Roberta was a stay-at-home mom until Brad and Jennifer started school. Then, she joined them at school working first as a lunchroom assistant. She continued working for the East Helena school system as an administrative secretary to seven different superintendents. After working for the school system for 25 years, Roberta retired on Halloween 2002. During those years at school, Roberta touched the lives of many children. She provided loving support and care for staff and students alike. She was always there for them with a smile.
Roberta quietly championed East Helena. She pointed out possibilities for the Main Street School when it looked like it would be razed. Roberta and Boyd enjoyed being active in the Radersburg Historical Restoration. She hated to see historical buildings fall into ruin and quietly initiated a funding drive to restore the Radersburg School. Thanks to Roberta's quiet initiative, the Radersburg School is currently being restored and will be dedicated at a 100th year celebration in June. Each grandchild has a homemade Christmas stocking, thanks to grandma. Roberta also took great pride crocheting baby blankets for her grandchildren as well as the babies of many of her children's friends. Roberta also took great delight in sewing Christmas stockings for newborns and patients confined to St. Peter's Hospital at Christmas time. Roberta also took great enjoyment in hosting or attending Boyd's Army reunions.
In December 2007, Roberta was diagnosed with an extremely rare disease, amyloidosis. Through the last 5 1/2 years, Roberta's positive attitude through difficult days of treatment inspired many. Amyloidosis is so rare that she was often charting unknown waters. When the disease attacked her kidneys, she began dialysis. Her positive spirit and warm smile brightened the dialysis unit. She loved her dialysis group and the dedicated staff who provided such wonderful care. In 2010, Roberta's daughter Jennifer wanted to donate a kidney to her Mom. She wasn't a match, but that didn't stop Jennifer! Roberta and Jennifer participated in the paired-kidney transplant program through the Mayo Clinic in Rochester, Minn. Jennifer's kidney was a match for a man from Minnesota, and Roberta received a kidney from someone in Minnesota. The kidney transplant provided Roberta with increased strength to enjoy and cherish her family. Roberta and her family kept a positive outlook as they valiantly fought this devastating disease with experimental treatments and many trips to the Mayo Clinic.