RosaLeigh Wood
1942 ~ 2016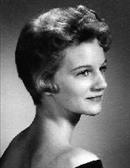 On Saturday, April 2, 2016, RosaLeigh Wood was welcomed into Heaven after a valiant battle against multiple myeloma and primary amyloidosis. RosaLeigh, 74, was born in Nampa, Idaho on March 23, 1942 to Lois and Harold Fobes. She has two brothers – Hal and Rick Fobes and one sister, Carol (Fobes) Thompson.
Rosie and her high school sweetheart, Jerry Wood, graduated from Nampa High School with the class of 1960. Their high school class motto was "Look for the Silver Lining" which was exactly how Rosie lived her life. Even during the most trying times of her illness, she was able to find something in her life to be grateful for and continued to light up every room she entered with her contagious smile.
Jerry and Rosie were married on March 3, 1962, and he was by her side when she passed. Together they raised two sons, Lonnie and Steve, and one daughter, Carrie. They have 5 grandchildren: Meagan, Brandon, Whitney, Mikyla and Heidi; 4 great-grandchildren: Skyla, Aivan, Gemma, Sierra; and a 5th, Quentin, due in May.
Rosie led many volunteer efforts including "Rally for the Cure" and was extremely passionate about finding a cure for this dreadful disease. Her greatest passions were spending time with her family and friends. She was also an avid golfer and had Aced two separate par 3s at her home course at Lake Kiowa, TX. She loved to share her thoughts and ideas around the parables of life, the lessons learned on the golf course and how they apply to our everyday lives. Her awareness of the greatness in this world was evident throughout her life. She created a silvery path on the roads she traveled and found the silver lining in every one she met. She was loved and cherished by all who knew her. -