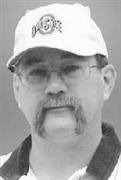 Timothy Alan Woehler
CUYAHOGA FALLS -- Timothy Alan Woehler, 61, passed away September 4, 2015 after a long courageous nine year battle with multiple cancers and end stage renal disease.
Tim was born in Princeton, Ky. and resided in Cuyahoga Falls most of his life, graduating from Cuyahoga Falls High School in 1971.
Tim was active in the Cuyahoga Falls South Little League Baseball as a coach and manager in the 1990's. He played softball during the 70's and 80's and was a huge Ohio State Football Fan along with the Cleveland Browns and Indians. He loved to do wood working, making a variety of furniture and decorations for family and friends. He had worked as a welder and truck driver and retired in 2006 due to Multiple Myeloma with Amyloidosis.
Preceded in death by his parents, Robert Woehler and Ann Woehler Pedigo; he is survived by his wife of 37 years, Jan; son and daughter-in-law, Troy and Stephanie; grandchildren, Olivia, Ciearra, Nikolas and Titus; sisters, Barbara Smith, Terri Lampi and Brenda Woehler all from Arizona; The Cook Forest Gang and many nieces, nephews and friends.