Patient's Day at the XI International Amyloidosis Symposium
Notes from Patient's Day from Muriel Finkel: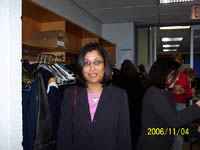 Our Boston "Tea Party" at the Comfort Inn was a great success. Besides about 70 people from NY, MA.OH. PA. MT. CA, IL. NJ. NC. FL. NV. CT. WA. TX.AZ. MI. CANADA (Marsha and Jim of the Canadian ASN Support Group), AUSTRALIA, and others, and I shouldn't make lists....as I leave people off......I would add GA.....but Dennis' plane was late, but we had Ruth and Richard Shapiro representing the ASN and Mary O'Donnell the ARF. We celebrated the soon to be nuptials of our Boston Support Group Facilitator Ken Bergstrom and Clara, and all enjoyed the informal get together....... Tomorrow (Saturday) is the BIG day.......and will let you all know how it goes.... CAN'T WAIT
You all have had the "Boston Tea Party" report and this is the one about THE DAY. After the informal meet and greet and continental breakfast (great spread) reception on the 14th floor of the Hiebert Lounge (great view of Boston), we all sat down and had the truly sincere welcome introduction By Dr. Vaishali Sanchorawala, Clinical Director of the SCT Transplant Program in Boston. Following was a brief introduction of the ASN, ARF, ASG, and then we were all told about the purpose of the Patients Day by Dr. Sanchorawala and given the agenda and overview of the day (meet the experts, ask questions, meet other patients and families, and visit the research lab...) It was easy to understand why all come away from the Boston Experience thinking Dr. Sanchorawala is "the best"Dr. Giampaolo Merlini (am thinking of getting my flue shot in Pavia), gave us his presentation and gave so many so much hope. It is easy to see why so many think he is the go to person in Europe.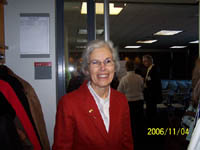 Some of us who did the "grunt" work for Patient's Day were invited to a dinner that night and had the pleasure of being joined by one of Dr. Merlini's Clinician's from Pavia. Giovanni (of course I made sure we were on a first name basis; as he was as charming as his name implies) told us he handles 30 patients a week! They not only have awareness spread in Italy, but all roads lead to Pavia.....also joining us that night was Drs. Skinner, Benson, Jeff Kelly of Scripps, hubby Steve, Kathy Finn NP, Cathy Fisher RN., and "The Women of Boston University"....Wendy, Kamille etal.....but I digress......next on the agenda we had.....s charming as his name implies) told us he handles 30 patients a week! Dr. Ray Comenzo of Sloan Kettering (always kind and charming as well as so knowledgeable; and will be our guest speaker at the 2/24 support meeting in NYC) was next and talked about new developments in Diagnostics and monitoring therapeutic effects. We then had a brief Q and A and then Isabelle Lousada did a wonderful presentation and talk about her experience as a patient at Boston and her Stem Cell experience. She was diagnosed young in England and through a series of circumstances came to Boston to have her treatment. She is now the proud mother of two and to quote her is in "enduring remission".....her talk was inspirational, and touching as well as informative and her story of Dr. Skinner holding her hand every time she had to endure a specifically difficult procedure for her was beautiful. Isabelle now lives in the MA area with her family. Dr. Laura Dember (petite but powerful) gave us am explanation of Amyloidosis as it affects all the organs in the body....Dr. Dember is the Amyloidosis Nephrologist part of the Boston team, and was so incredibly precise in her explanation of the supportive care that goes along with the various organ involvements, that I was literally in tears remembering and reliving our experiences with unc as he was multi organ affected and we had walked that very walk she talked about so eloquently. Dr. Dember had been a guest at one of our Boston meetings; and we knew she'd be a "hit".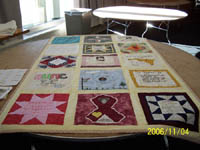 We broke for lunch (another great spread) and informal discussion and I know I missed a break in there but you get the idea......After lunch we had breakout sessions and one of the patients came over to me after talking to Dr. Merlini and Laura Dember saying, "They know, and really understand...." It was like that for so many.....There were break out sessions for Familial, AL, Caregivers, and Supportive Care, and taking part in them were Drs. Berk (Boston's localized Amy Specialist and heads up the Difflusinal Trial), Comenzo, Seldin (Boston's Hematologist member of the team and a major player along with Drs. Skinner and Sanchorawala) Merlini, Dember and Kathy Finn, Cathy Fisher, and me. People moved from session to session and it gave all an opportunity to ask questions freely of these wonderful doctors and nurses......
We also had some wonderful surprises as Lou and Linda Catania were introduced...Lou was one of if not THE first SCT Amyloid Patient from Boston and that was back in 1994...and he flew in from their home in Vegas along with Linda, so that should answer a lot of questions.....and there were presentations of donations for Research and Awareness and Support by various Fundraisers......it was all quite emotional and made us all aware of how much is being done out there and how much more there is to do..... .....we had a Motorcycle group that raised money for Research.....Pop's Run and they looked so wonderful in uniform...........and a Golf Outing raising for Research, Awareness and support....the Jamieson's and Diane Jamieson represented the family.....and Bredine Pennington, and her "tag sale" that raised money for research....my first e-mail from Bredine was in August..;.she had raised over $1000 from a "tag sale" the previous August and donated to Boston and had asked for some awareness items....this year her check was for quite a bit more.....and she and her friends and family can be so proud of their contribution in her son Keith's memory, along with the Pops' Run Group, who even with a rainout managed to raise over $3000, and Diane Jamieson's family and their $30,000 doled out to the various charities....God Bless them all....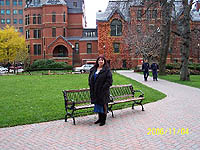 The closing remarks and then the tour of the lab and the new clinic and the Moakley Building and then a shuttle ride back to the hotel.....some left that night and some stayed on tour Boston on Sunday and some for Monday too; we had two families from our Chicago group; Greta and Char...Greta is an SCT Survivor from Mayo and I'm not sure where Char's hubby who is familial received his organs.......Steve and I went up to Gloucester with a Pop's Runner and devoured Fried Clams.....(we have family up there)......we arrived back at the office at 9am today and to a computer that works.....I know I left things out and feel free to feel others in, as this is all from memory and it was a wonderful fulfillment of a dream that started in September 04 with a meeting with the Boston Group ...so long ago.....it was so wonderful.....and do feel free to e-mail me with any questions.....oh, and if you are trying to reach any doctors from Boston, Mayo etc.....and they are slower than usual getting back to you through this Thursday, you will understand:=3D) Boston was wonderful, and BUMC Amyloid Research did Bean town proud....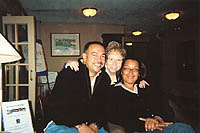 Love to all,
Muriel Finkel
President
AMYLOIDOSIS SUPPORT GROUPS, INC.
Sorry, I left off Terry Peel....Terry, who's wife has undergone two Stem Cell Transplants at Boston has testified before Congress as a private citizen to advocate for Amyloidosis to be recognized by the CDC (Center for Disease Control) and the NIH (National Institutes of Healthy) and help with funds for the Department of Health and Human Resources as well as being instrumental in helping us get our SCT's covered by Medicare for Amyloidosis Patients over the age of 65. Terry is our friend at a place where we need friends and goes the extra mile for us whenever he can.......We pass around his Statement's at all of our meetings and should you like to see them you can Google his name, or ask for a copy, We are so grateful to him that he is willing to use the influence that he has for us in such a great way.....it was great to see him at Patients Day......
View Patient's Day Agenda (PDF)
More Photos from Patient's Day: