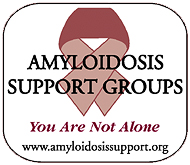 Home Page

Awareness Building

Amyloidosis Info

TTR & Familial

Important Clinical Trials

Patient Registry

Upcoming Events

About Us

Contact Us

Resources

Treatment Centers

Awareness Items

AMY Blogs

Patient's Day

In Memoriam

Donations

---
---
Were you diagnosed with Cerebral Amyloid Angiopathy (CAA)?
Click Here
---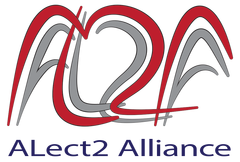 LECT2 Support
Amyloidosis Support Groups
---
MOST COMMON SYMPTOMS OF AMYLOIDOSIS BEFORE TREATMENT
(FROM POLL ON WWW.AMYLOIDOSISONLINE.COM )
FATIGUE -93%
FOAMY FROTHY URINE -72%
SHORTNESS OF BREATH -71%
EDEMA (ANKLE AND FEET SWELLING) -70%
WEAKNESS -64%
TINGLING OR NUMBNESS HANDS OR FEET -56%
DIZZINESS UPON STANDING -54%
FEEL FULL WITH EATING LITTLE -50%
EASY BRUISING -45%
ELEVATED CHOLESTEROL -43%
SUDDEN LOSS OF WEIGHT -37%
DIFFICULTY SWALLOWING -36%
CARPAL TUNNEL SYNDROME -35%
NONPRODUCTIVE COUGH -35%
CHANGES IN NAILS OR HAIR -34%
IRREGULAR HEART BEAT -34%
DIARRHEA -31%
LOWER BACK ACHE -29%
CHANGES IN SKIN -28%
PURPUREA (BRUISING AROUND EYES) -25%
ENLARGED TONGUE(MACROGLOSSIA) -24%
GALLBLADDER REMOVED -19%
FALLING DUE TO LOW BLOOD PRESSURE -17%
ELEVATED ALKALINE PHOS.LEVELS IN BLOOD -11%




2020 CALENDAR

Arizona (Phoenix)

California (Los Angeles)

California (San Diego)

Chicago

Colorado

Detroit

Florida (Jacksonville)

Florida (Miami)

Florida (Tampa)

Georgia/Alabama

Indianapolis

Kansas City

Louisiana

Maryland (Baltimore/D.C.)

Maryland (Hagerstown)

Massachusetts

Minnesota

Nevada

New York City

New York (Rochester)

North Carolina

OSU/Cleveland Clinic

Philadelphia

Portland

St. Louis

South Carolina

Texas (Dallas)

Texas (Houston)

Utah

Virginia

Washington (Seattle)

Washington (Spokane)

Washington DC

---
We invite our pharmaceutical liaisons to our support group meetings to help in our goal of educating and empowering our patients. The donations and/or grant received from these companies are unconditional, and the ASG does not endorse any one of their products over any other types of amyloidosis treatment. These treatments are mentioned at our meetings, on our website, and other electronic format for educational purposes. We encourage you to consult your amyloidosis professional when choosing a treatment plan.
---