Pop's Run was June 29th, 2008.
---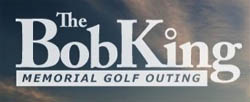 The Bob King Memorial Golf Outing
Was held on June 27th, 2008 at Raccoon Hill Golf Club in wonderful Kent, Ohio.

WOW WOW is all I can say...... What a wonderful day, wonderful family of Bob King, wonderful friends of Bob King, wonderful golf venue, wonderful raffle (Destin, Florida vacation), door prizes and wonderful food for lunch (grill cooked brauts w/ yellow peppers, green pepers and onions) and for dinner (steak, potatoes and corn on the cob )of course all the drinks one could take in all day!!!

Our day was sunny and somewhat mild at 7:00 a.m. as the golfers met and greeted while eating donuts and coffee.... I've never met so many great people who came to honor Bob King. He has to have been such a great guy as I heard story after story of his fun personality from his children and friends. There were tears and cheers as people talked about Bob!..... I also found out how much male bonding goes on during a golf game and for that matter before and after the game!!!

I'd like to thank Tara (Bob's daughter), her mother (Bob's wife) and Bill Amato (friend/organizer) for asking ASG to come and treated us to the best of everything. It was a day as I've heard Muriel say, "I could have flown home I felt so high!" It was one of the best events I have attended since I've been involved with ASG......My grandson Joey came with me and got to drive the golf cart around the golf course and he had a ball!!

They had a table for amyloidosis awareness items and I grabbed everyone that walked by and gave out a bracelet and a pin. If they had on the bracelet that evening at Pineene's (which was a dinner/bar), 20% of their bill went to Amyloidosis so the day event went into the night!! The awareness of amyloidosis with the people that attended the event was very prevelent. The check is in the mail, Muriel, and thanks to Carole as the necklaces and bracelets were a hit!!

Tara is beautiful with her flowing balck hair & little belly full of baby ..... she was glowing!! He husband was a doll and so were all of the King, Copley families..... Thanks so much for a great day of fun and amyloidosis awareness......

Sue Smith, Awareness Chairperson
ASG Ohio Facilitator
ASG Michigan Facilitator

Graduating college, having Steve propose, getting married, having Isabelle, finding out we were pregnant with this baby after a year of invitro, and yesterday (the Golf Outing) - these are the best days of my life. Seeing 190 people come together to raise money for this wretched disease, and to honor my father is the most amazing experience a person could have. I saw 190 people with Amyloidosis pins on their shirts and bracelets on their wrists - it brings a tear to my eyes as I sit here now. Sue was amazing....(her grandson was a doll). The room fell silent when she spoke about the disease - she captured everyone's attention. Having her with us for the day was amazing and I cannot thank her enough.

Sue, spending the day with us was a selfless, honorable act and we will never forget it. Thank you for representing the group and for keeping all of us focused on why we were there. It takes a lot of courage to spend the day with a bunch of "strangers", however; she fit right in and made everyone feel like she had been a friend for years. Thank you, also, for sharing your story with so many and for talking to us girls at the photo table- your wisdom helped me understand some of my pain.

Muriel and Steve, thank you for the awareness items and for your support during these past months....

I CANNOT WAIT to share with you all the revenues of this outing....I know we at least doubled our original goal.....can you imagine? This was only the first year....we have already booked the same date for next year. Please go to www.bobkingmemorial.com and look under "Photos" - there are 300 or so of the outing. Sue - there is a great pic of you and Joey....I will try to get a hard copy sent to you.

Love to you all!
Tara Colopy
---
Pop's Run 2005
The Nassau Wings rode up to Boston this past weekend to present the Boston University School of Medicine a check for the proceeds from this year's Pop's Run. Despite poor turn out, we still managed to raise a record $5,446.00 so the school can continue researching the cause and cures for Amyloidosis.
We were met by Dr. Martha Skinner (the head of the program) outside the building where everyone wasted NO time getting photographed sitting on our bikes, exchanging pleasantries, and taking LOTS of photos (we'll have them up soon on our website).
Once inside, we were served lunch by the entire research staff. A couple of them even PERSONALLY baked a pie and a cake for us (we were truly touched). They explained their "mission" and we were introduced to the staff and volunteers. Nearly ALL of them came in to meet us, though a couple were unfortunately unable to attend (but extended their greetings through their colleagues).
Next up was a tour of the laboratory. I think what impressed us MOST was how YOUNG the men and women in the office were (and how informal). I guess we were all expecting greying old men in spectacles wearing white lab coats with plastic pocket protectors. Instead, young men and women in their early twenties wearing jeans, T-Shirts and flip-flops greeted us and explained the equipment, how they test for the presence of amyloid proteins and how they go about trying to combat the disease.
They were especially happy to show us the PHAST Electrophoresis System, a diagnostic device they were able to purchase with the money raised from the first three Pop's Runs. They proudly told us it is the most requested, reserved and used piece of equipment in the lab and how happy they are to have it. The device is used to break down amyloid proteins to their component parts for analysis.
After the lab tour, we all convened in their conference room to present the check from this year's run. Joanne Hurd (our event chair) made a huge facsimile of the check to present to Dr. Skinner. The number on the check, 0821, reflected the month and day of the event. Dr. Skinner informed us the check facsimile will be put on display in their main hall for everyone to see. They were then given the far more mundance looking "REAL" check.
The wrap up for the day? Three of the volunteers wanted to go for rides on our bikes. We provided them with jackets and helmets and took them for a quick spin around the neighborhood and when we returned all three were positively giddy!
I think this cemented our relationship with the Boston University Medical Center and we hope to continue being able to raise money for these fine, dedicated and delightful people. I also wanted to shout out to all of YOU who made it possible to contribute as much money as we have over the years. Thanks again and we hope to see ALL of you in 2006!
Jaime A. Cruz
Nassau Wings Motorcycle Club
Pop's Run Ride Committee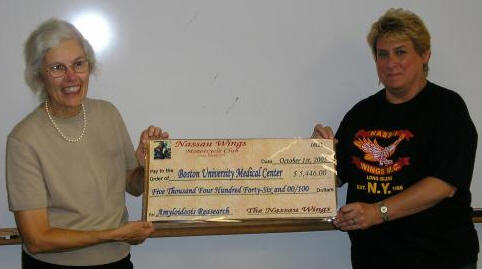 ---
Steve and I just returned from "Debbie's Dash" in Indianapolis. Dr. Benson was there and over 200 people mostly college sorority and fraternity members of Butler University. We also met some of Debbie's family still living with their variant of the disease. All of the money raised went to research; but we set up an awareness table that caught everyone's eye.
We had ASN posters, brochures, TTR Brochures, pins, magnets, etc. and the D.J. was very cooperative announcing the diseases and the items being sold every 5 or 10 minutes. The weather held up, the people were great and a good time was had by all. They will be doing the 5K walk/run again next year (this was the 3rd), and meeting some of Debbie's family, Pam Day, Stacey Royer, and Dr. Benson was quite an honor. His nephrologist stopped by, and found out Dr. Benson's wife is a Rheumatologist (another Dr. Benson) and they has two sons.
Dr. Benson had the nicest things to say about Drs. Skinner and Gertz. We are truly family.
Muriel Finkel
President
Amyloidosis Support Groups
232 Orchard Drive
Wood Dale IL 60191



Muriel and Steve
Muriel with Debbie's Sister
Awareness Table
Ready to race
Dr Benson
The Racers
The Racers