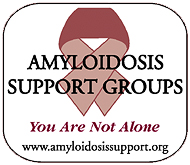 Home Page

Awareness Building

Amyloidosis Info

TTR & Familial

Important Clinical Trials

Patient Registry

Upcoming Events

About Us

Contact Us

Resources

Treatment Centers

Awareness Items

AMY Blogs

Patient's Day

In Memoriam

Donations

---
---
Were you diagnosed with Cerebral Amyloid Angiopathy (CAA)?
Click Here
---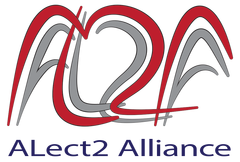 LECT2 Support
Amyloidosis Support Groups
---
Survivor Stories
To submit your Survivor Story, or update your existing story, please email muriel@finkelsupply.com
There are many long term survivors of Amyloidosis - here are some of their stories:

Name
Type of Amyloidosis
Date of Diagnosis
Treatment
Alt For.
AL
2014
Chemo
Dan Baker
AL
2004
Chemo, SCT, Dex, Thalidomide Complete Remission.
John Ball
AL
2010
Chemo and ASCT
Tim Bass
AL
2002
HDC/SCT 2003 HDC/SCT 2007
Javier Beltran
ATTR
2007
DOMINO LIVER TRANSPLANT 11/2008
Jacqueline Birn
MGUS &AL
May 2003
AL Oct 2006
ASCT 1/5/2007
excellent response: partial remission
Lorraine Brown
AL
March 2008
Valcade
Louis Catania
AL with MM
May 1994
Chemo then SCT/2nd SCT Summer of 2016
Lynette Dager
AL
Aug 2004
Transplant, SCT & Chemo
A (anon)
AL
2008
SCT
Adel Foz
AL
2007
SCT/2008/BUMC/Complete Respnse
Fred (Anonymous)
AL @SMM
2003
SCT(over 70 yrs. old) Melpahlan, Revlimid, Velcade
Brenda Gregory
AL with MM
December 1997
Transplant, SCT & Chemo
Greta(anon)
AL
2002
SCT
Amy Haas
AA -TRAPS
Spring – 2007
Dex/ Remission
Jay Helwig
AL – Cardiac
May 1994

Mel/Pred June 1994 -- SCT Aug 1994- BUMC

Alfred "Bart" Howe
AL with MM
MM-Dec 2001
AL -Dec 2003

Chemo with Revlimid

Fred Jackson
AL with MM
Feb 2005
SCT
John
AL
2012
Chemo
Steve Keller
AL
2004
SCT & Chemo
Penny Kubik
AL
2003
SCT
E.L.K. Hagerstown, Md
ATTR
6/26/2002
not yet active (AMY is dormant)
Paul Langlois
AL
2010
SCT-Heart TX – Velcade, CYBOR-D, Rev, Vel, Dex Carfilzomib , NEOD001 trial/Daratumumab
Vince Liguore
AL
2009
SCT – Chemo – Heart TX
Walt McGuire
AL
June 2006
Rev/Dex –SCT- Organ TX's
MDL
AL with MM
Dec 2002
Dex prior to SCT
Claire Montour
Familial apoA1
1999
Triple Organ Transplant Heart, Liver, Kidney – May 20, 2008-Mayo/MN
Jack Moore
AL
June 2005
SCT
Joni Pearl
AA
Kay Rowley
AL
FEB 2002
Chemo/Complete Remission
Sandi Sadler
Familial ATTR
Oct 2003
Liver Transplant
Dan Sansbury
AL
March 2010
Rev/Dex – 5 cycles, Velcade-2 cycles- ASCT – 10/2010
Sonya Scarff
AL
Apr 2004
Chemo
Kathy Spaulding
AL
July 2007
Melphalan and SCT
Sam T. (PA, USA)
AL-Pulmonary
2/6/03
Chemo
IRVIN VANDER LEEST
AL
November 2006
Chemo
Kathy Wilson
AL and MM
2003
Chemo off and on..SCT 2013 Complete Response/Dialysis 2016/
AL = Primary Amyloidosis
AA = Secondary Amyloidosis
ATTR = Hereditary Type Amyloidosis
MM = Multiple Myeloma
WM = Waldenstrom's Macroglobulinemia
---
To tell others about your own survivor story, please fill out the form below.
Your email address will only be displayed on the page if you specifically request it.
Your name can also be changed if you wish - just put the request in your story at the bottom, with a suggested alternative. Photos are fine - just email
muriel@amyloidosissupport.com
Any general queries - ask Muriel (
muriel@amyloidosissupport.com
)
or Elinda (
drlado@VERIZON.NET
)


2020 CALENDAR

Arizona (Phoenix)

California (Los Angeles)

California (San Diego)

Chicago

Colorado

Detroit

Florida (Jacksonville)

Florida (Miami)

Florida (Tampa)

Georgia/Alabama

Indianapolis

Kansas City

Louisiana

Maryland (Baltimore/D.C.)

Maryland (Hagerstown)

Massachusetts

Minnesota

Nevada

New York City

New York (Rochester)

North Carolina

OSU/Cleveland Clinic

Philadelphia

Portland

St. Louis

South Carolina

Texas (Dallas)

Texas (Houston)

Utah

Virginia

Washington (Seattle)

Washington (Spokane)

Washington DC

---
We invite our pharmaceutical liaisons to our support group meetings to help in our goal of educating and empowering our patients. The donations and/or grant received from these companies are unconditional, and the ASG does not endorse any one of their products over any other types of amyloidosis treatment. These treatments are mentioned at our meetings, on our website, and other electronic format for educational purposes. We encourage you to consult your amyloidosis professional when choosing a treatment plan.
---