---
Montana
Live in Montana? Suggested treatment centers for you below.
SPOTLIGHT ON: Boston University and Mayo Clinic Rochester

We put the spotlight on Boston University and Mayo in particular because they are THE major amyloid medical centers in the USA. Each has an amyloid center within its facilities. They have both been treating amyloidosis for more than 30 years, with over 500 publications each. They also offer 3-day evaluations and have extensive clinical trials. Regardless of where you live we recommend BU and Mayo Rochester whenever a patient's insurance allows.

Boston University Amyloid Center
Boston, Massachusetts
(617) 358-4750
All amyloidosis types
Support Group
Mayo Clinic
Rochester Minnesota
507-284-5363
All amyloidosis types
Why Choose Mayo?
Mayo on amyloidosis
Support
Locations in or near Montana:
-----
Seattle Cancer Care Alliance
Seattle, WA
Phone: (206) 606-1260
Click here for website
-----
Oregon OHSU Knight Cancer Institute
-----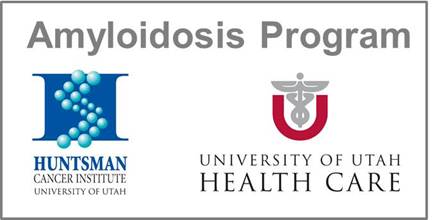 Amyloidosis Program
Huntsman Cancer Institute – University of Utah
All amyloidosis types
Appointments: 801- 213-5733
Email: amyloidosis@hci.utah.edu
Jose Nativi-Nicolau, MD
Cardiovascular Director
Tibor Kovacsovics, MD
Hematology Director
Joe Abraham, MD
Nephrology Director
-----
SUPPORT: PORTLAND/SEATTLE, DENVER
---
If you have questions please email Info@AmyloidosisSupport.com or call Toll Free 866-404-7539 and leave a message.
Search for other locations by state: